Settling In
Welcome to AppFollow! 👋 If you're a Support manager or agent looking for an overview of AppFollow's review management capabilities, you're in the right place. In this guide, we'll cover everything from review management basics to performance analysis and automation. Along the way, we'll include crosslinks to more detailed guides – feel free to check them out and come back here whenever you need a refresher.
Before You Start
Some of the features in this section require integrations with an app store. Your account admin will help with setting these up. If you're in charge of managing your account setup, we recommend circling back to our guide on Getting Started: Prepping Your Account (for Admins).
Finding and Organizing Reviews
Your go-to resource for working with reviews is the Reply to reviews page. This is the best starting place for your review management journey: the information you see here is the backbone of all our review modules.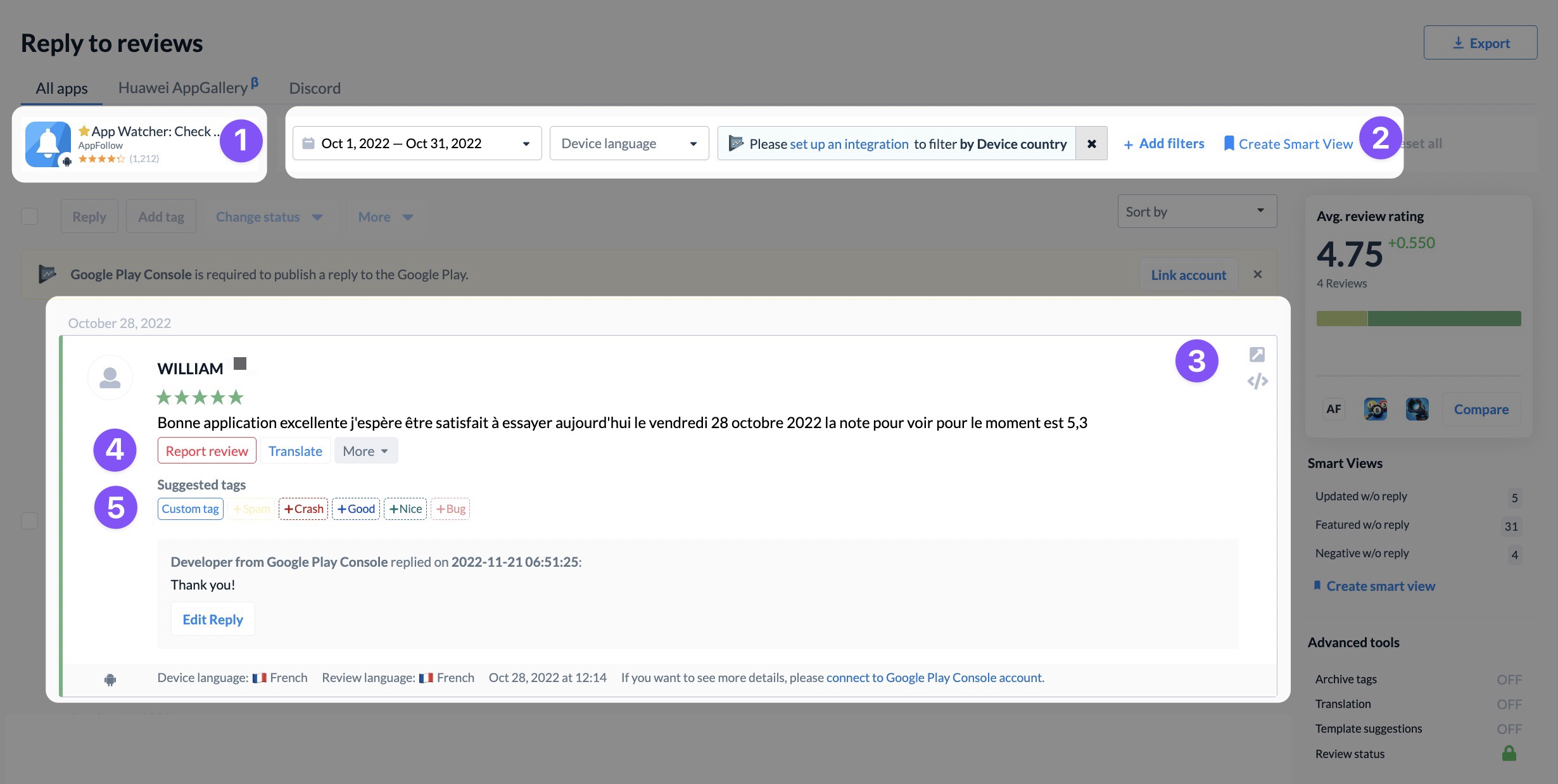 What to focus on:
You can select and work with any of your apps on this page. No more switching between different consoles and accounts – now, all your review management tasks are managed from a single location.
Filter and Sort Reviews to drill down and find what you need to focus on.

💡 Save your filters as a preset by creating a Smart View.

Learn all about a review's history, rating, status, and user on the review card. The conversation will never get lost, and you'll always have access to the additional context.
Quick actions allow you to work with reviews right away.

💡 If you find an inappropriate review that's impacting your app's rating, you can flag it for the app store by reporting a concern.
💡 Add tags manually to group your reviews by custom topics.

Semantic tags take the guesswork out of organizing reviews. We'll analyze your reviews with a machine learning algorithm and show you the review's topic and sentiment automatically.
Level up your performance by setting up Auto-tags. Our advanced conditions allow you to cover any user comments: just sit back, relax (or focus on more important tasks), and come back to a fully tagged set of reviews.
Replying to Reviews
Not all reviews are created equal – most often, you'll want to apply different strategies to specific topics, ratings, and user sentiments. We learned how to tag and filter out the reviews you want to focus on in the previous section. Now, let's look at how you can allocate your resources and use different reply techniques.

Reply to reviews manually by using the reply field under a review. You can use this technique when you're just getting started or when you receive an especially tricky review and need to put some extra thought into your response.
Reply templates allow you to use a set of canned responses, or macros, that you can manually apply to a review. Templates save precious time and will enable you to focus on those tricky reviews from the previous point.
Auto-replies work behind the scenes: when your account has active automation rules, we automatically apply templates to a review based on a set of conditions.

💡Auto-replies save time while ensuring your responses still sound human: you can set up an auto-reply rule that cycles through random templates from a specific folder.
💡Choose the "Pending Approval" moderation mode to check on the replies before they go public.
Prefer to keep working from Zendesk? We've got you covered – check out our Zendesk App or set up an email integration with another help desk system to continue responding to reviews without leaving your support space.
Good to know: Auto-replies go hand-in-hand with the Zendesk App. We'll process your AppFollow auto-replies and only send unanswered reviews to Zendesk.
Analyzing Your Performance
Now that you've started responding, you'll want to see how your team is performing and the impact your replies have on your app's reviews and ratings. This analysis will help you adjust your reply strategy and understand your team's workload.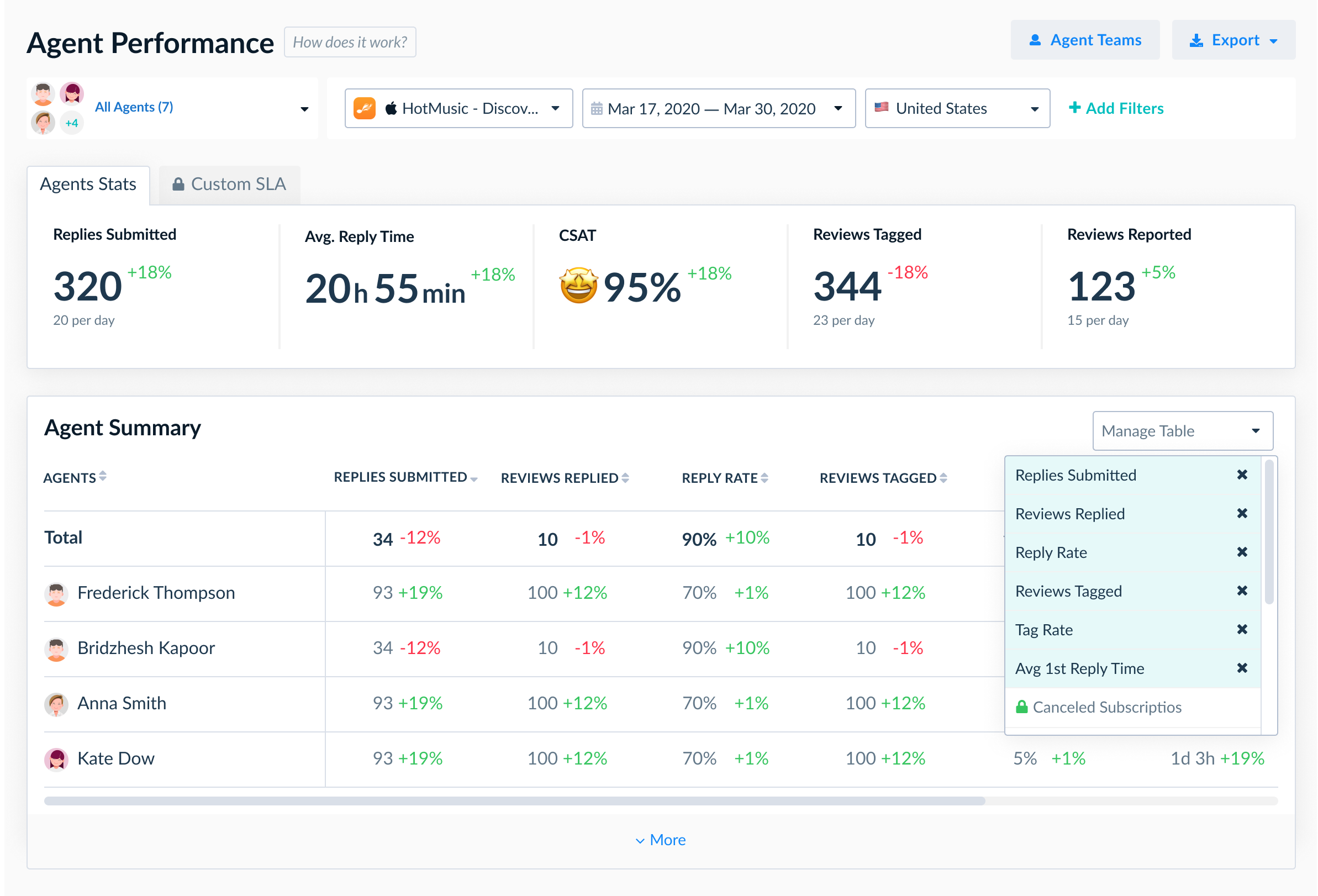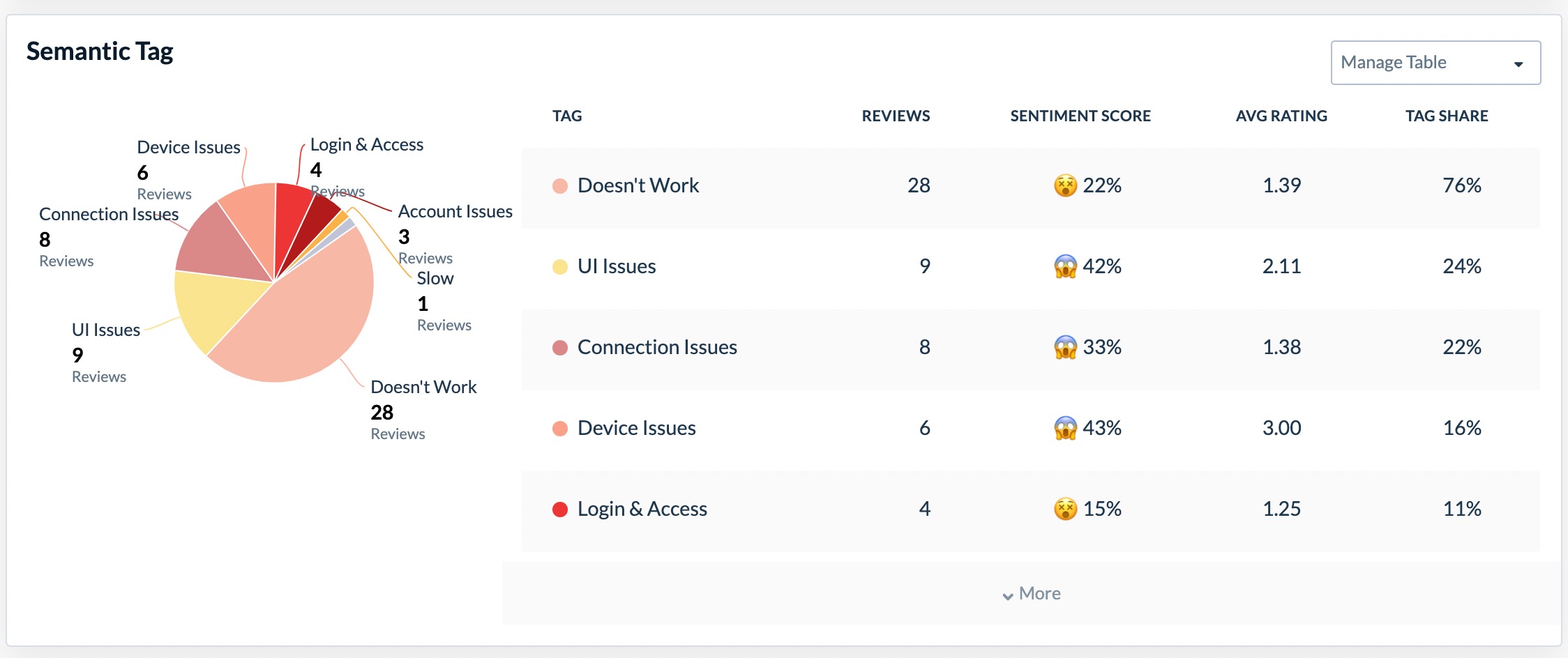 Keep an eye out for the most commonly used manual and semantic tags. When you find recurring topics, you'll be able to set up templates and automation rules that will reduce your team's workloads. Learn more about automation in the next section of this guide.⚡️
Optimizing Your Strategy
Once you figure out what your current review management strategy looks like, it's time to improve and enhance. Remember: optimizations are an ongoing project. You'll want to revisit your review and reply stats regularly and continue iterating.
Staying Updated
Your app may receive a few daily reviews, or it may receive dozens and even hundreds of them. Whatever your strategy is, it's essential to be aware of any reviews that require your attention.
Use the Smart alerts tool to set up custom notifications about:
New reviews
Review spikes
New review tags
Next Steps
Now you're ready to get to work! We encourage you to share this guide with your teammates to help get everyone on the same page. Whenever you're looking for some inspiration or next steps, feel free to revisit this guide. If you encounter any questions while using AppFollow, our Help Center is packed with knowledge to help guide you in the right direction. See you around!