If your app receives a review with spam or offensive content, it's possible to report concerns directly from AppFollow.
Make sure that you have an active Reply to Reviews App Store Connect integration. Keep in mind that for the reporting tool to work, only an Admin or a User can connect your App Store account to AppFollow.
Automate the concern submission process with the Auto-reply feature.
Google Play Store
Please follow our guide on adding the "Report a concern" integration for your Android app. This integration will allow you to report concerns from the AppFollow interface and Zendesk.
Do not forget to invite android2021a@appfollow.io as a user to the Google Play Developer account and grant it Reply to Reviews permissions.

App Store Connect
To use the Report a Concern feature, your iOS app should have an active Reviews & Replies integration with the App Store:

To report a concern for an offensive review:
Go to the Ratings & Reviews page.
Select a review and click Report a Concern.
Choose a reason for the report and add a description.
Click 'Report'.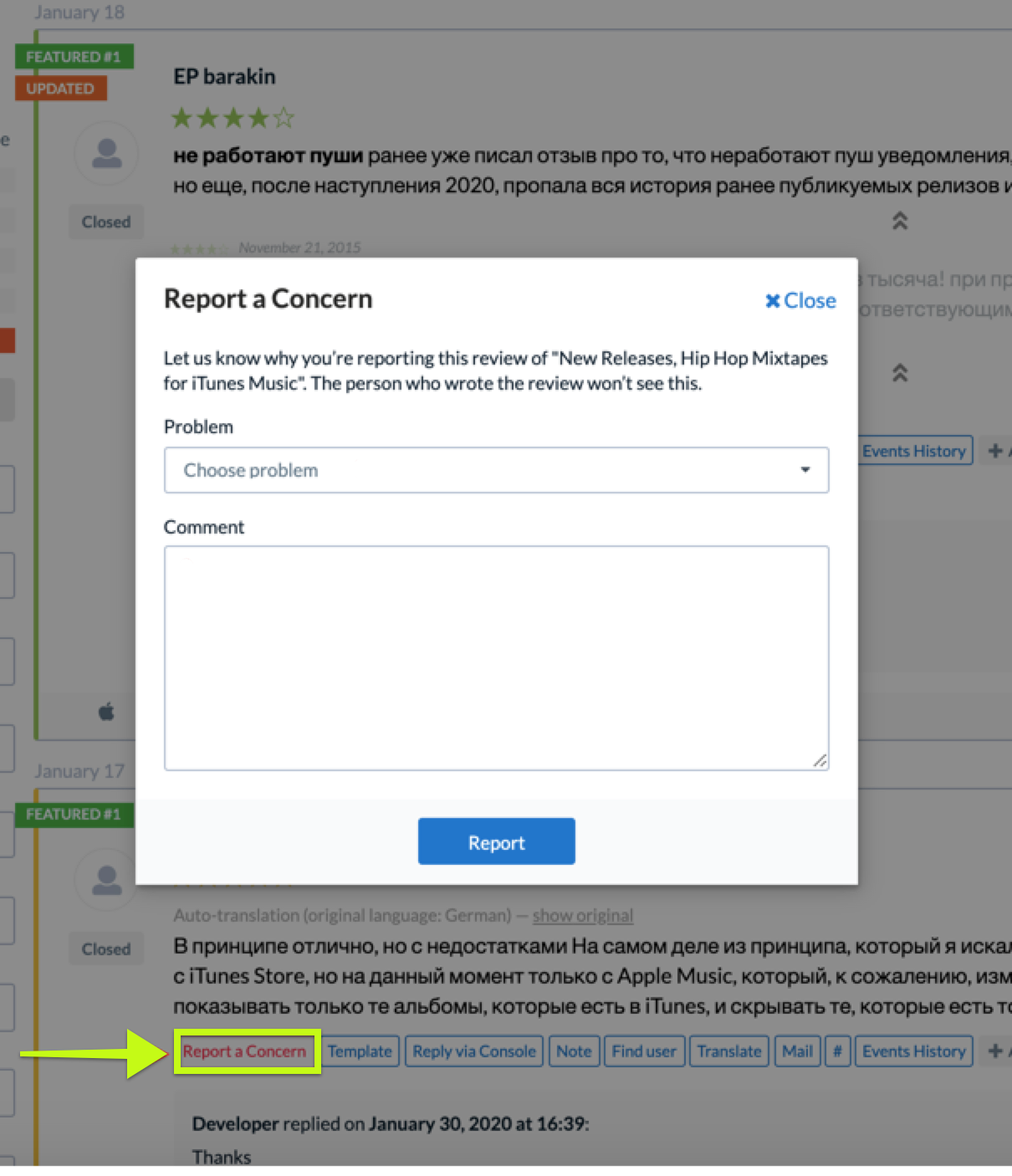 Zendesk App
If you are an active user of the Zendesk App, you can easily report spam and offensive reviews directly in Zendesk. First, make sure to set up a Zendesk App integration. Learn more in our Zendesk App Guide.
For iOS apps:
Add the app to your Zendesk account.
Go to your AppFollow account and select the Zendesk Workspace (it is created automatically).
Add an integration with your App Store account. Keep in mind the rights required to report reviews.
All done – now you can report an inappropriate review for your iOS app via the Zendesk App ;)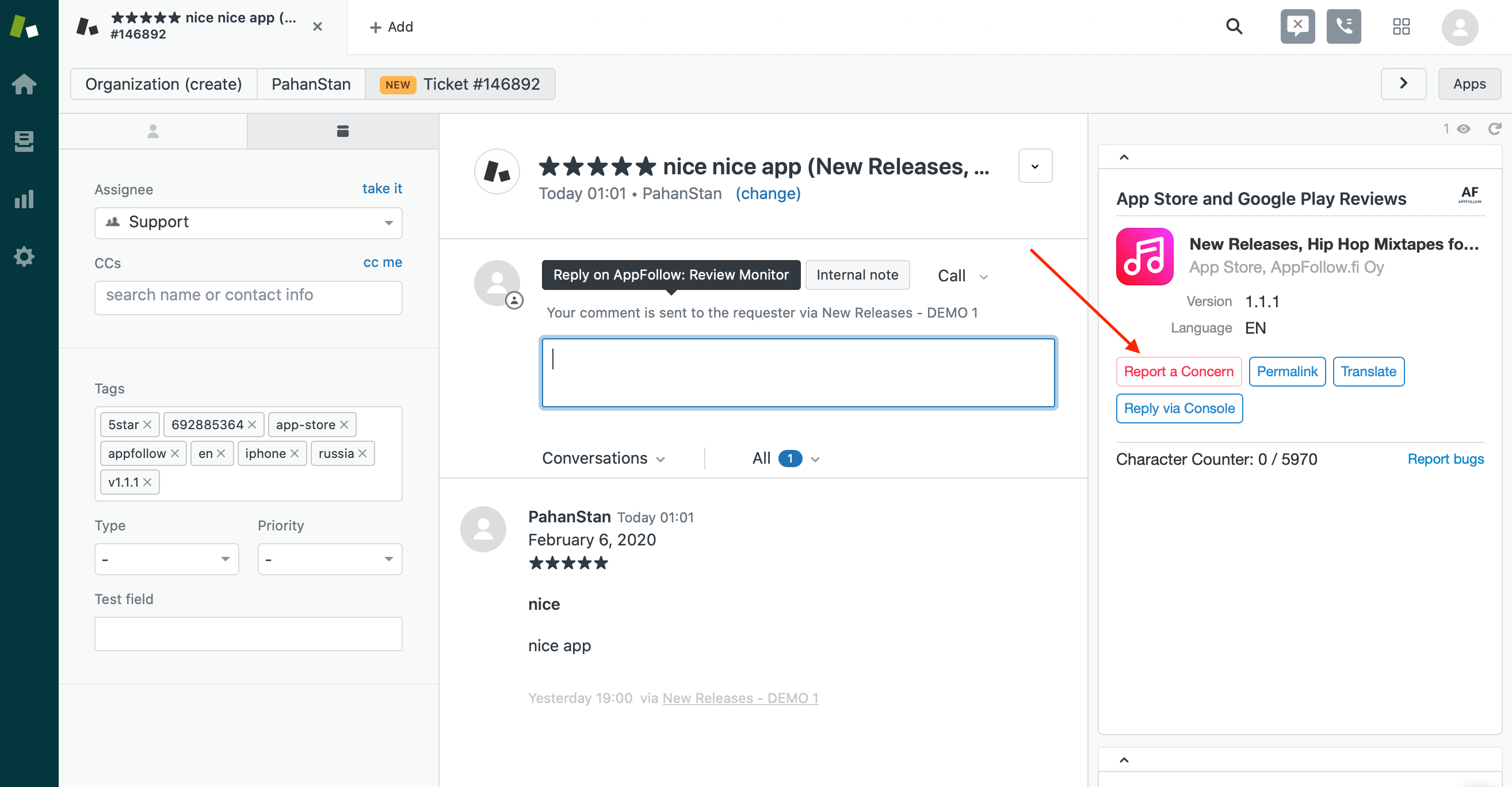 For Android apps:
Add the app to your Zendesk App.
Log in to your AppFollow account and go to the Zendesk Workspace.
Choose your Android app and open the "Report a concern" tab.
Send an invitation to android2021a@appfollow.io and enter your Account ID.
Congratulations - you are now set to report reviews directly from Zendesk App.
App stores can block reports if you submit too many per day. Unfortunately, they don't disclose the report limits. We have now set a daily limit of 15 review reports per app at AppFollow. In case you exceed it, the reports will be saved in our system and automatically submitted the next day.
Follow the Statuses of Your Complaints
Use the Replies Chart to follow and analyze the statuses of your submissions. The following statuses are available:
Reported - the number of complaints reported during the selected period.
Deleted - the percentage of reviews removed after the report.
Pending - complaints on hold on AppFollow's side.
Submitted - complaints sent to the store.
Concern Declined - submissions rejected by the store (available for Google Play only).
Concern Satisfied - reviews that were removed by the store after your report.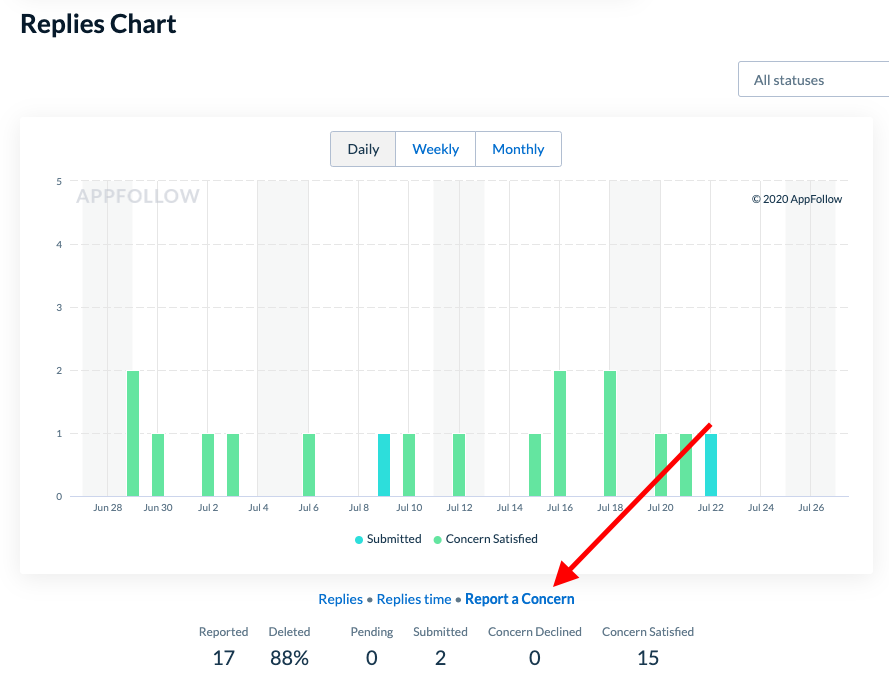 We update these statuses according to these rules:
Every day within 14 days since you report a concern.
In case no updates are found, we will come back to the store on the 21st day since the report submission to find out if it was deleted.
We make a final attempt on the 30th day since you report a concern using AppFollow.