Settling In
If you're a product manager, marketing specialist, team leader, or developer looking for insights into your app's performance – this guide is for you, and we're glad you're here! 👋
AppFollow provides you with tools to measure your app's performance, see how you compare to your competitors, and find and address any underlying issues. In this guide, we'll walk you through our main app and store analytics features. Along the way, we'll include crosslinks to more detailed guides. You can dive into more details in our help articles and return to this guide when you're ready to continue exploring.
Before You Start
Some of the features in this section require integrations with an app store. Your account admin will help with setting these up. If you're in charge of managing your account setup, we recommend circling back to our guide on Getting Started: Prepping Your Account (for Admins).
Understanding the Bigger Picture
Different members of your team work hard on developing your app, optimizing its organic performance, responding to reviews, and driving downloads and revenue. All of your efforts are interconnected: when your strategy is on point, you'll see an improvement to your key app metrics.
AppFollow helps you run a health check and evaluate which areas you want to focus on next.
Finding Insights
In the previous section, we worked through your app's main stats and got an idea about your overall performance. Now, we're ready to look for insights that will help you put together an action plan to improve your key metrics, tackle issues, and get ahead of the competition.
To find the answers, let's start by asking ourselves the following questions.
What are our app's main issues, and how can we address them?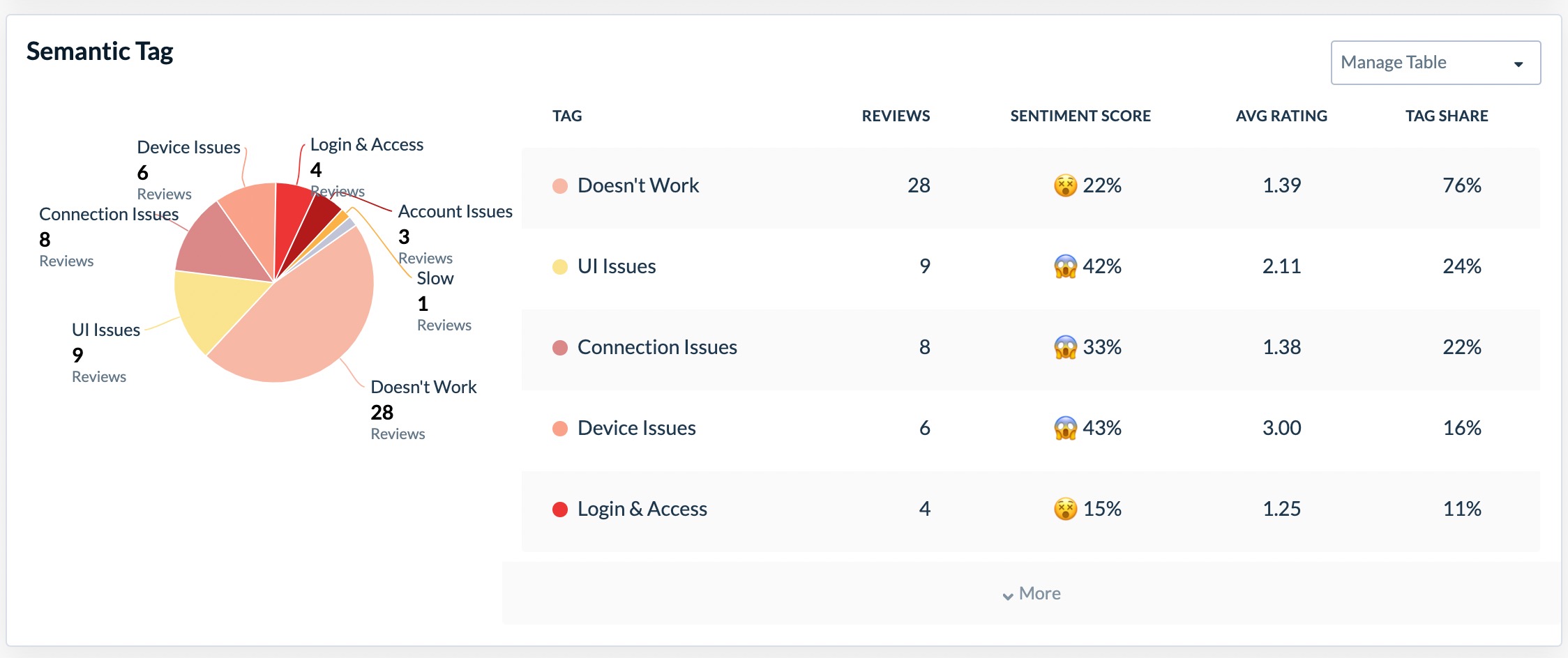 Your app reviews are a goldmine of valuable insights into what your users think about your app – and what's preventing them from leaving a higher rating. Reading between the lines of hundreds or even thousands of reviews is nearly impossible, but our machine-learning algorithms are up to the task. We automatically tag your reviews with common topics and issues, so you always have an up-to-date report on the number, sentiment, and average rating of reviews about bugs and issues.
What are our recurring review topics?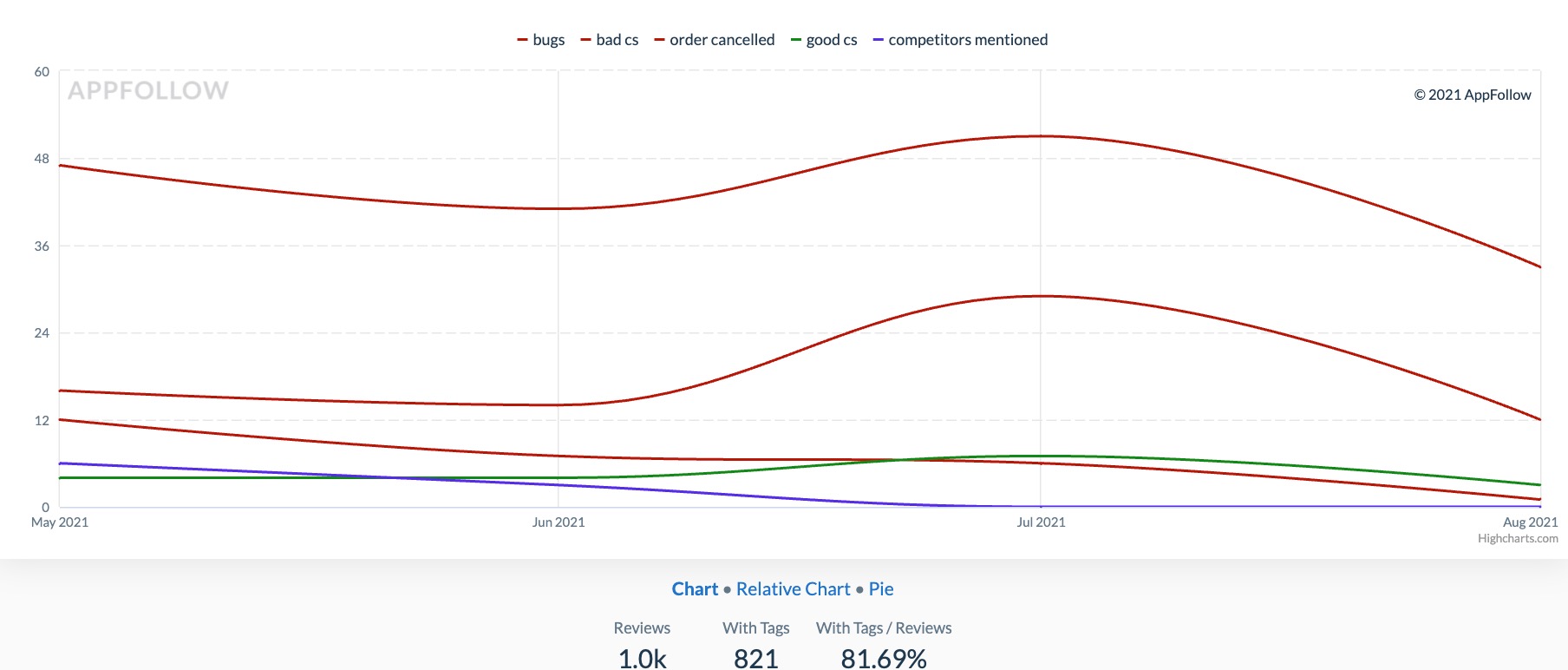 Your Support team works on tagging and categorizing reviews: both manually and with the help of auto-tags. These tags were created by your team and are specific to your company, so they serve as a key resource when you need to identify product-specific topics and trends. Dig into the results of your team's efforts to refine your product strategy and better understand your users.
How does our app compare to market leaders?


Market analysis is an important part of advancing your app's position. To stay ahead of your competitors, it's important to understand their brand power and organic performance. Use our competitor analytics tools to create a baseline for your app, then use it to scale and improve your app's performance.
How does our user feedback compare to competitors and market leaders?

Every app has its weak and strong sides, and there's no better way to learn about them than by comparing user feedback. Ratings and reviews are a great indicator of customer loyalty, so it's crucial to understand not only your app's audience but your competitors' userbase as well. Comparing app ratings, satisfaction levels, and the number of bug reports helps you run a comprehensive competitive analysis and improve your own strategy.
Are we succeeding in growing our organic traffic share?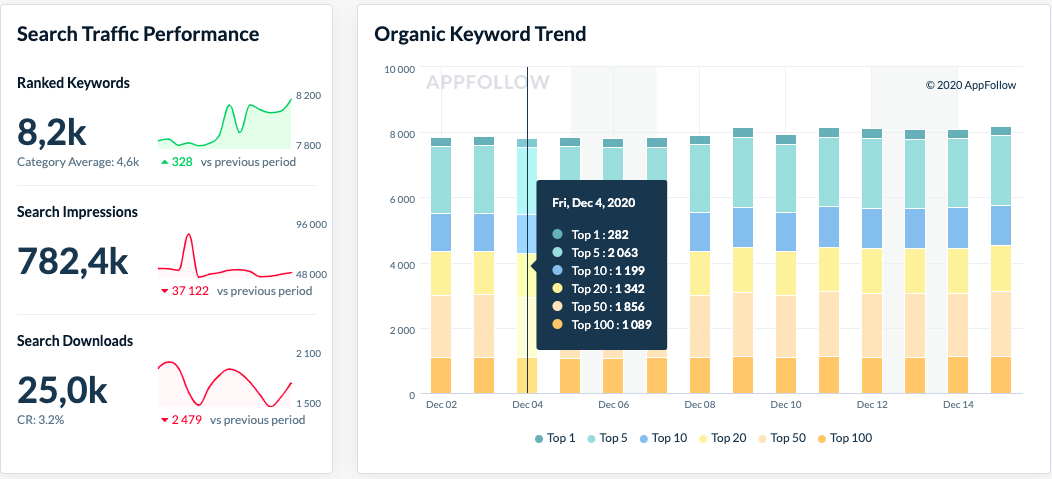 The efforts of your ASO team translate directly into your organic user acquisition metrics. Your stats may be different in different countries, on different platforms, or for different traffic channels. Therefore, it's important to monitor not only your worldwide performance but also dig into your optimization results by country.
Next Steps
If you're looking for even more app stats, check out the following collections:
Feel free to return to this guide whenever you need some product insight inspiration. We encourage you to share this article with your product, marketing, and analytics teams. Other articles in our help center will provide you with even more information about AppFollow, so see you around!