Overview
When it comes to tracking app performance, it's important to consider your users' opinions. That's why AppFollow is equipped with special features that help you search, tag, filter, analyze, and export user reviews.
To open the Reply to Reviews page, click on Reply to Reviews in the navigation menu on the left. On this page, you'll find the following sections:
Average Review Rating for the currently visible Reviews. Click on the graph to see a breakdown of ratings by stars.
Filters panel.
Sorting options.
Reviews.
Advanced Tools.
Learn more about working with reviews in the next article: Publish and Edit Replies to Reviews.
Advanced Tools
The advanced tools toggles allow you to enable additional features on the Reply to reviews page. In this section, you can adjust:
Click on the ON/OFF toggle to see more information or change the settings. The lock means the feature is not enabled for your account and by click on it, you may send a request to upgrade your account.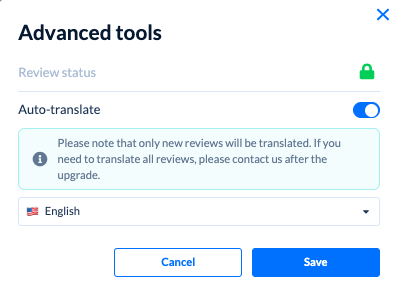 Review Details
The Review card contains useful information to provide you with more context before you write a response. Along with info about the Review itself, you can learn more details about the user who posted it. See the star rating of the review, the reviewer's username and profile picture, and whether the review received any likes or dislikes from other app store users.
The top-left corner of the Review highlights additional information to help you keep track of what needs attention:
Featured Reviews – reviews that are featured in the app store and visible to all users visiting your app's page in the store.
Updated Reviews – reviews that have been updated since they were initially posted.
Deleted Reviews – reviews that were deleted after publication by either the user or the app store.
Review Status – learn more in our article on the Review Status feature.
Beta Reviews – learn more in our article on Google Play Beta Reviews.
The following data is displayed for each review on the Review card:
Country (for App Store, Mac App Store, Microsoft Console, Amazon, and Google Play*)
or
Device language (Google Play)
Review language
App version
Device (Google Play)

*For Google Play reviews posted after May 24, 2021, you will also see additional data:
Please note that Google Play may not provide all of this data. Whenever additional data is available, we'll display it under the Review card.

Review Actions
Click Report to report irrelevant or offensive reviews to the app store. Learn more: Report a Concern
Use Review Actions to work with and learn more about a review from a single panel. Click on three dots to open the list of actions:
Translate — open a new page to see the translation of the selected review.
Note — leave an internal note about the review for your team.
Reply via Console — reply to a review via the developer console. Learn more: Reply via Console.
Find user — get more information about a user through Google Search.
Share review — open the review in a new tab.
Copy link — copy the link to a particular review to share it internally.