Overview
Phrase Analysis lists the most popular words and phrases your customers write about in reviews. This page shows trending topics, the sentiment of reviews with certain words, and it allows the team to keep an eye on possible problems as they arise. This analysis is a great help when you're setting up automated replies for reviews.
💡To check the phrases and words for an app, add it to your Favorite Apps.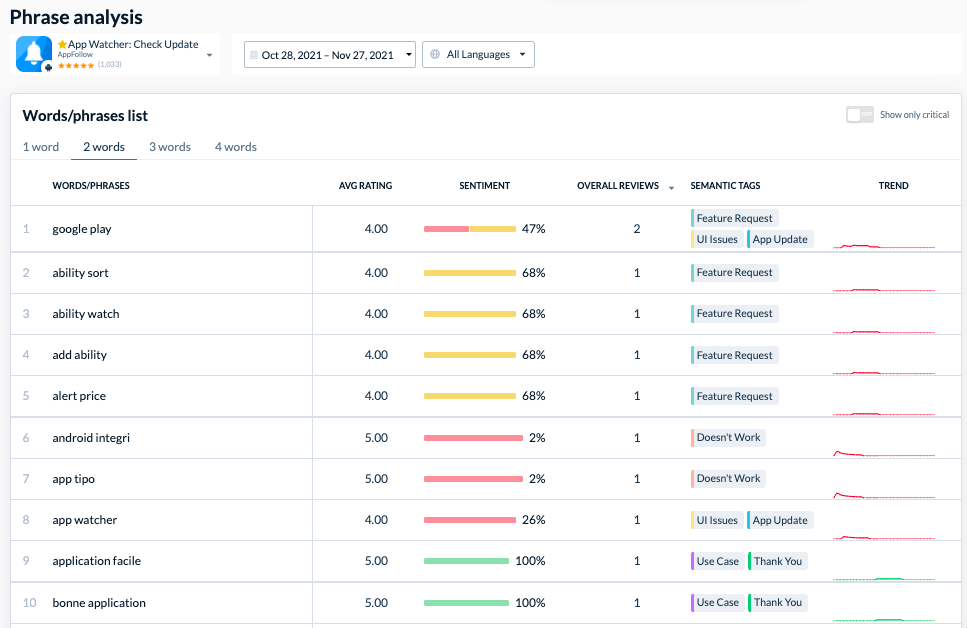 Filters
The Reviews Analysis section is a table with a list of words and phrases. You can use filters by app, date range, and language to select the reviews for analysis. For example, to get started, pick an app, time period, country, and review ratings.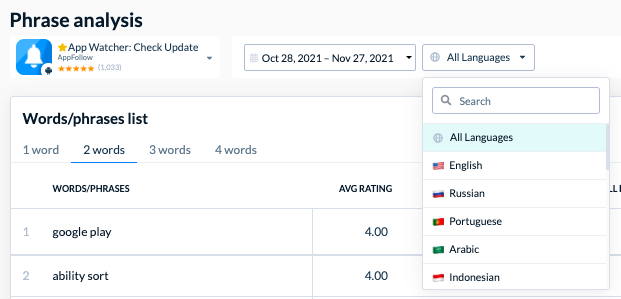 At the top of the table, you can select the "Show only critical" option. When switched on, you'll see words and phrases for reviews with:
Average review rating less than 4 stars

Sentiment score is less than 60%

Descending trend

Words/Phrases List
The Words/phrases list is a table containing words, average reviews rating, sentiment, overall reviews, semantic tags, and trends.
Words/Phrases
This column has several tabs and you can switch between 1 word, 2 words, 3 words, or 4 words for analysis.
To see the reviews that include this word, simply hover over a word and click View reviews button.

You will be directed to the Reply to Reviews page with the reviews filtered by the phrase.
The View reviews option is now available only for 1 word. We will add this option for 2, 3, 4 words phrases soon!
Average Rating
The Average Rating is the rating of reviews that contains certain words or phrases.
For example, if in September the app had ten 5-star reviews with the words "great app", the average rating for the phrase "great app" will be 5.00.
Sentiment
Sentiment shows the breakdown of reviews with certain words by rating and Sentiment Score. The score shows the app's overall user satisfaction score and is calculated based on the correlation between positive and negative reviews.
Overall Reviews
The number of reviews with certain words in the overall number of reviews for the app, and the percentage of such reviews.
Semantic Tags
Up to three semantic tags which are most frequently assigned to reviews with certain phrases.
The Semantic tags are provided only if the Semantic Analysis feature is enabled for the account. If you need to get access to this part of the table, please reach out to your account manager.
Trend
Shows the main tendency of the average rating dynamic for reviews with certain phrases. The ascending trend is shown in green and descending in red.