When you add an app to a workspace in AppFollow, we start collecting new and past reviews. In this article, you'll learn how long it takes to collect reviews, how often we update reviews, and what to do if you feel that some reviews are missing or arriving with a delay.
Overview
You can add multiple apps to your workspaces to keep track of all your reviews. To switch between apps, click on the app picker dropdown on the Reply to Reviews page and select an app.
You can choose an individual app, or select all App Store or all Google Play apps at once.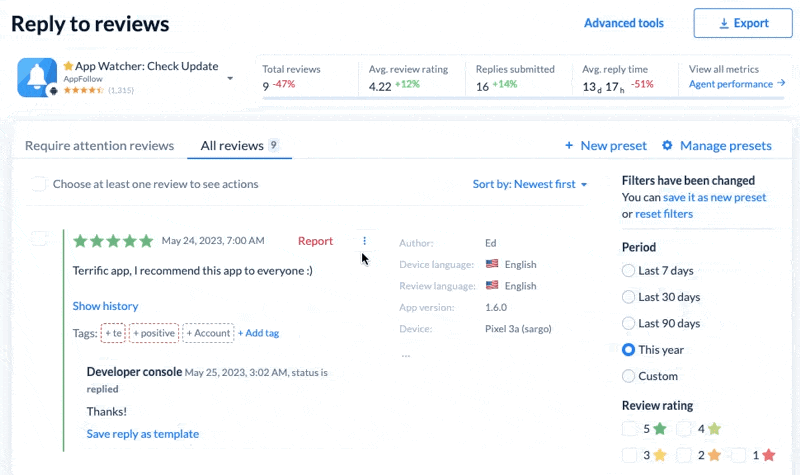 After you add an app to your Workspace, its reviews will be collected within 2 hours. If you have more than 4000 reviews, it may take up to 2 days.
Update Frequency
Please note that delays of up to 36 hours can occur due to public review processing limitations in Google Play and the App Store.
Featured Reviews
We update featured reviews 3 times a day (every 8 hours) for both App Store and Google Play. Learn more about Featured reviews in this article.
Missing Reviews
If some reviews are missing or are not updating as expected, please check the following causes:
Your workspace settings don't include all the countries you need. For example, if your workspace is set up to collect data from the USA only, we won't collect reviews from Italy. To fix this, please update your workspace settings to include more countries, or switch the workspace to "Worldwide". Learn more in our article on how to Add Countries to Your Workspace.
The filters on the page exclude the reviews you're looking for. If you set a filter, it limits the reviews you see on the page. Learn more in our article on how to Filter and Sort Reviews.
Your app doesn't have an active console integration. Reviews take longer to sync if your account doesn't have an active Reply to Reviews integration. To set up an integration, please follow the guides in the following articles:
Your app's console integration is inactive. Reviews take longer to sync if the integrations in your account become inactive. To check the status of your integrations, open the Integrations -> Linked Integrations section in the left-hand navigation panel. To refresh the status, click on the gear icon next to your integration and select "Check status". If the status remains inactive, reconfigure the integration or contact our Support team.
Reviews pass through a moderation process in the store. If you feel like your reviews appear in AppFollow with a delay, check out the next section of this article: Review Moderation.
If you continue to experience issues with missing or delayed reviews, please send our Support team a screenshot of the reviews from the App Store Connect or Google Play console to help us find the cause of the issue.
Review Moderation
All reviews and replies pass through a moderation process in the App Store and Google Play. When a review passes moderation, the timestamp in AppFollow shows the time when the review was submitted by the user, not the time it passed moderation. This means that the review may appear to be older than it actually is.

Moderation times:
Google Play: up to 24 hours.
App Store Connect: Typically it takes 8-12 hours, however, in some cases there may be delays of up to 3 days.
If Google Play integration is set up via the Service Account method, the reviews will be collected to your AppFollow account as soon as they are posted, regardless of the 24-hour moderation. This is because Service Accounts allow us to collect reviews directly from your Google Play Console.

For the Invitation method and apps without integration, the reviews will only appear in AppFollow after the moderation by Google Play.