This is a legacy feature that will be deprecated in the future. We encourage you to switch to our new and smooth Alert Review Transfer engine instead, as it provides the same functionality and can be troubleshot by our team in case of any issues.
Overview
Set up an Email Integration to receive reviews directly to your email address. Keep track of new reviews, share them with your team, and respond to them, all without leaving your inbox. Read on to learn about how to set up the integration, how to respond to reviews, and how to troubleshoot integration errors.
---
Set Up an Email Integration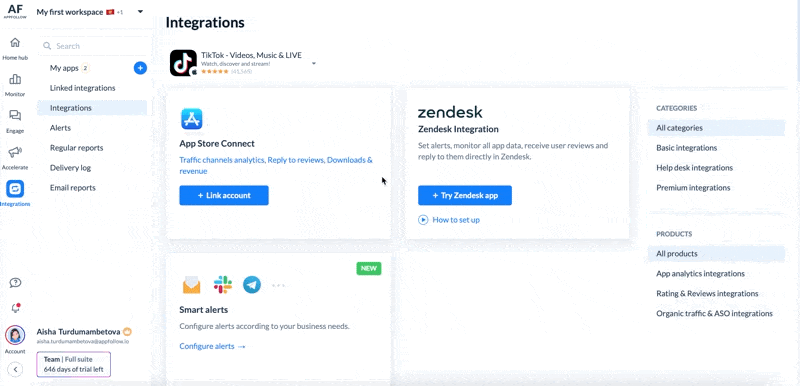 Open the Integrations List in the left-hand navigation menu and click "Add new integration".
Choose "Email" and click "Add integration".
Enter the email where you want to receive notifications about reviews. If you want to enter multiple email addresses, separate them with a comma.
Customize the integration settings. If you want to receive all new reviews, don't check any boxes. Otherwise, choose from the following options:

Only featured
Became better – reviews which were updated to a higher rating
Became worse – reviews which were updated to a lower rating
Import history – import the last 100 reviews which match the chosen criteria*

Select the review languages which should be included in the integration. Leave this section blank to include all review languages.
Click "Add integration".
*Import history: in case there are no reviews without replies within the last 30 days, we will import up to 100 reviews with replies for the last 30 days. If there are no reviews for the app within the last 30 days at all, we will import up to 100 reviews regardless of dates.
---
Receive Reviews
To check whether the integration was set up correctly, you can test it without waiting for a new review to arrive. To do this:
Open the Integrations List page.
Click on the gear icon next to the Email Integration.
Select "Send Test Notification".

Incoming reviews contain the following information:
In the subject line:
Featuring – if a review is featured, this is indicated in the subject line
Star rating
App name
App store
In the email body:
Publication date
Star rating
Review
Author
Device name (Google Play only)
Review word count
Device country
Device language or detected language (if the detected language doesn't match the device language)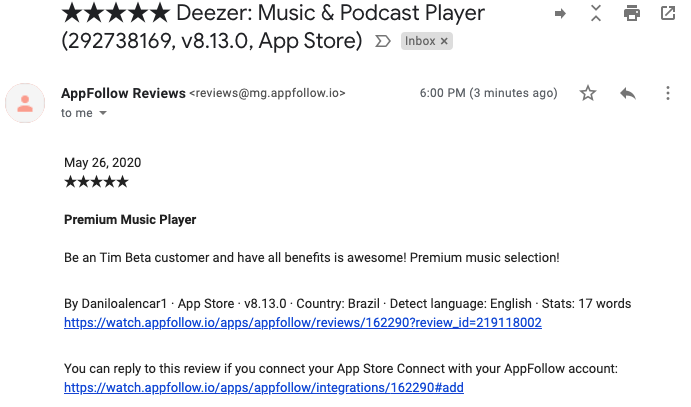 ---
Respond to Reviews
To reply to reviews via email, make sure to set up a Reply to Reviews integration first:
When you have an active integration, simply reply to the email notification to send your response.
---
Edit replies via email
To update/edit an existing reply, simply send another reply to the existing email thread with the review in question. The latest reply will be sent to the store and replace the previous one.
---
Common Issues
If the reply cannot be published, you will receive a service message notifying you about the error. Read on to learn about the possible reasons and how to fix them.

Email integration errors:
The reply is longer than than the app store permits:

Google Play: 350 characters.
App Store: 5970 characters

Integration error. To check whether your store integration is active, please open the Integrations List in AppFollow. If the integration is not active, delete the current integration, and install a new one. Send a message to help@appfollow.io if you need any assistance.
AppFollow Reply limits have been exceeded. Please check how many replies are included in your plan. The Free plan includes 100 replies per month. Send us a message if you need more.