The New Navigation menu groups features by your end goals, allowing your team to get access to the set of tools that is most relevant to their use-case. The switch from the Old navigation menu to this new one intends to provide a more intuitive, user-friendly way to access all features of your AppFollow account, in a more organized and consistent manner.
In the New Menu, you'll find solutions for:
Monitoring reviews
Engaging with reviews
Accelerating the performance of your app.
You will also be able to access the Home Hub section will help you explore our product and easily navigate between features.
In this article, we'll go over the features that are included in each section.
Account Settings
Your account settings are located at the bottom of the left-hand Navigation Menu. To get access to general account settings, billing and subscription details, and your list of team members, just click on your avatar in the bottom left corner of the menu.
If you need to get additional information about AppFollow, click on the question mark above your avatar for easy access to our top resources.
Monitor
The Monitor section houses features that help you keep track of your app's performance. This section is perfect for product managers and app analysts. You'll find the following feature pages here:
Ratings & Reviews

Dashboard

Rating chart

Reviews chart

Reviews analysis

Reviews feed

Tags

Tags chart

Tags list

Auto-tags

Insights

Semantic analysis

Phrase analysis

Compare feedback

Alerts & Integrations

Integrations

Linked integrations

Alerts

Regular reports

Delivery log

Email reports
Engage
Support teams need a single, powerful and robust tool to work with reviews, and the Engage section was designed to be that command center. You'll find all the features you need to make sure you stay on top of your app's reviews and feedback:
Reply to Reviews

Reply to reviews

Auto-replies

Templates

Tags

Tags chart

Auto-tags

Tags list

Reply analysis

Replies chart

Agent performance

Automation performance

Alerts & Integrations

Integrations

Linked integrations

Alerts

Regular reports

Delivery log

Email reports



Accelerate
Accelerate your app's performance by optimizing your ASO strategy and keeping track of your app's rank, keywords, downloads, and revenue. You'll always know where your app stands and how it compares to competitors. Here are the tools that are available to help you achieve your performance goals:
ASO & Keywords

Keyword tracking

ASO tools

Organic dashboard

Channel analytics

Downloads by keywords

App discovery

Category ranking

App update timeline

Featured timeline

Compare discovery

Compare downloads

App analytics

Downloads & revenue

Subscription report

Store analytics

Top chart rankings

App Store featured

Conversion benchmark

Alerts & Integrations

Integrations

Linked integrations

Alerts

Regular reports

Delivery log

Email reports



Alerts & Integrations
The Alerts & Integrations can be found by clicking on the Integrations icon on the left side menu. It will give you access to all Alerts, Integrations, and Reports available (and already linked) for your Apps and Workspaces:

Tools
At the bottom left side of the menu you will see a few icons that will give you access to very important tools to use within your account. They are:
Search
A field where you can input any page you wish to access within your AppFollow account, to access it quickly without the hassle of looking around for it.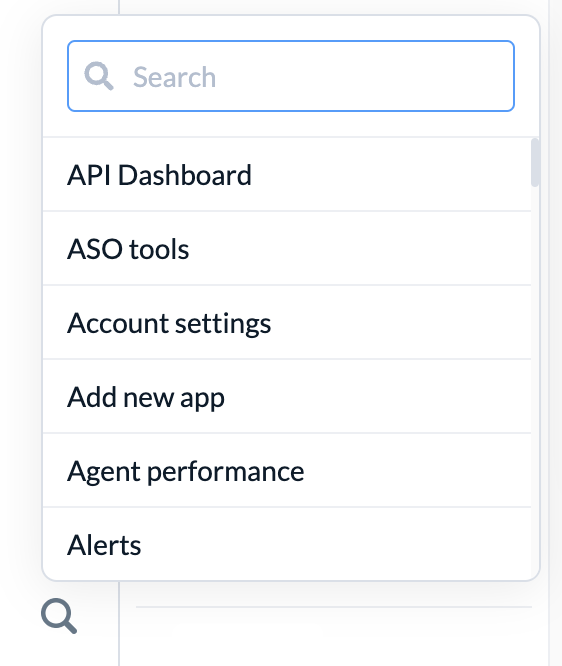 Help
A quick-access menu to our main Help channels: our Blog, Help Center, Customer Stories and contact links to our Support and Sales teams.

Profile
A link to your Account settings, billing options and more:
My apps

My team

API Dashboard
Settings


Account settings
Change password
Single Sign-On (SSO)
Notifications
Deactivate account

Billing

Subscription
Invoices
Billing settings

Logout