When it comes to app performance, you need to have all the recent changes made to the app on hand to analyze which events influenced the app's results and performance. This information is available on the App Update Timeline page.
The App Update Timeline is located under the Competitors Analytics section in the left-hand navigation menu.
---
Filters
At the top of the page, there is a filters section where you can select an app, type of update, dates, and country.

Select Apps
You can check updates of all apps in the Workspace. It could be your own apps or apps of the competitors you are interested in. It is possible to select All apps or several apps to compare the releases on the Summary below or check the updates of a certain app.
Filter Updates
Types of updates available for filtering are:
- Title
- Description
- Short Description
- Icon
- Screenshots
- Video
- Price
- In-App Purchases
- Category
- Developer Name
- Url
- Version
Date picker
You may select a time period to analyze the updates or check the updates on a certain date.
Country
There is a default country set in the Workspace settings displayed. You may pick any other country to check the details on the updates there.
---
Summary
The calendar summary shows all the updates of selected apps. On the calendar, the Metadata Updates and the Visual Updates are indicated.
Click on dot on the calendar to preview the details of the update. The preview shows the details of the update in the pop-up window.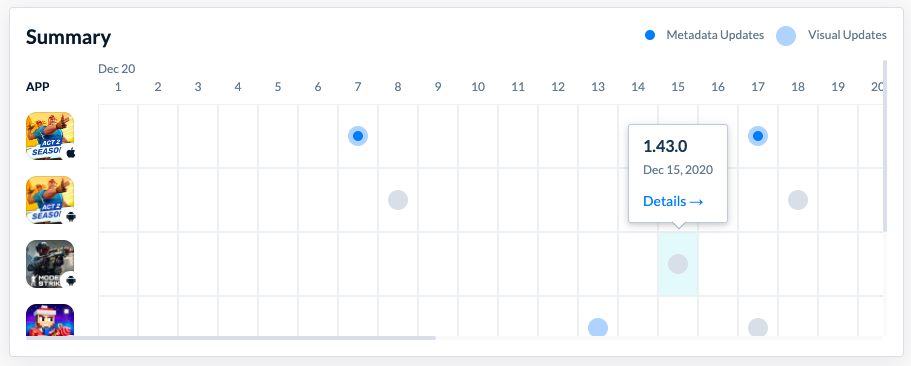 ---
List of Updates
All the details for the filtered updates are laid down under the Summary.

Each update note contains:
- the version update;
- the last release and metadata update dates;
- details of all the updates with the comparison of the old and new versions.
Example: