The AppFollow Zendesk App allows you to receive reviews, respond to them, and analyze your user's mood without leaving your Zendesk account.
To get started,
set up the Zendesk App Integration
. In this article, you'll learn what a review ticket looks like in Zendesk and how you can optimize your workflow with the help of AppFollow filters and tags.
Receive Reviews in Zendesk
The Zendesk App Integration delivers reviews from the App Store, Google Play, Microsoft Store, Mac App Store, and Amazon straight to your Zendesk workspace. Once you set up the integration, all new and updated app reviews will come in as tickets.
In the collapsed view, you will see the review's rating, title, the app's name, and the name of the user who left the review. If the review was updated, you will see a prefix that indicates this: [UPD]

While setting up the integration, select the "Import history" option to receive not only new reviews but the last 100 reviews as well.
Choose Which Reviews to Receive
If your apps get a large number of reviews daily, you probably want to quickly react only to the most important ones. You can control which reviews you receive in Zendesk while setting up the integration. Learn more about how to configure these filters in our article on how to set up the Zendesk App Integration.
Available filters:
Stars – receive reviews with a specific amount of stars
Languages – receive reviews in certain languages
Words – filter reviews by those that contain more or less than three words
Auto-translate – automatically translate reviews to the specified language
Import history – import up to 100 reviews without replies for the last 30 days
Featured reviews only – receive only reviews that were featured
Disable tags – disable Auto-tags in incoming review tickets
Became worse only – receive only reviews where the star rating decreased
Became better only – receive only reviews where the star rating increased
Updated reviews only – receive updated reviews only.
Ticket Details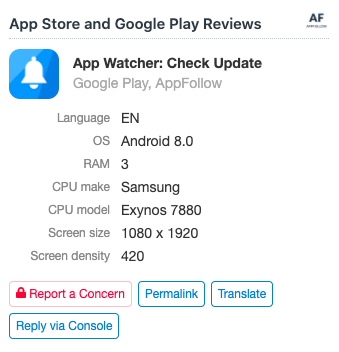 Each ticket contains the review text, tags, and info about the user.
If the review has been updated, you will also see the conversation history.
In the App widget on the right, you'll see additional data and action buttons:
Country
Language
Device
OS version
Report a Concern
Permalink
Translate
Reply via Console
Reply to Reviews
To reply to app store reviews use the field above the review and click "Submit". Your answer will be published as soon as it's approved by app stores.
If you exceed the monthly reply limit and there are Zendesk replies pending, they will get automatically sent when the limits are reset on the 1st day of the next month.