This feature is in public beta and is available to anyone who has an app in the Samsung Galaxy Store and has an account in AppFollow.
Overview
Here are the actions currently available in AppFollow for the Samsung Galaxy Store:
Adding Samsung apps to your account
Setting up an invite to Samsung Connect
Monitoring Samsung reviews
Applying manual and semantic tags
Monitoring tags and reviews on the Tags and Reviews charts
Add a Samsung app to your account
In AppFollow, open the My apps page from the left-hand navigation menu and click on Add app:




Select the Galaxy Store on the Source list and add the full app link in the Search box (e.g. https://galaxystore.samsung.com/detail/com.tencent.ig), then click on Search. Please note that text search is not available for Samsung apps, so you will need to use the direct link from the store.
Click on + Add app to finish the setup.


Set up an invite to Samsung Connect
Please follow these instructions to set up an invite to Samsung Connect: How to invite an user to the Samsung Galaxy store seller portal.
After inviting the AppFollow user, go to your account > Integrations, make sure the correct app is selected, and click on "Link account":




Click "Next" after you've followed the instructions on the screen, make sure to select the checkbox confirming that you've invited our user and click on "Add integration":




Monitor Samsung reviews
Once the app is successfully added and the AppFollow user is invited to the Samsung Galaxy Store, you'll be able to monitor reviews from the Reply to Reviews page: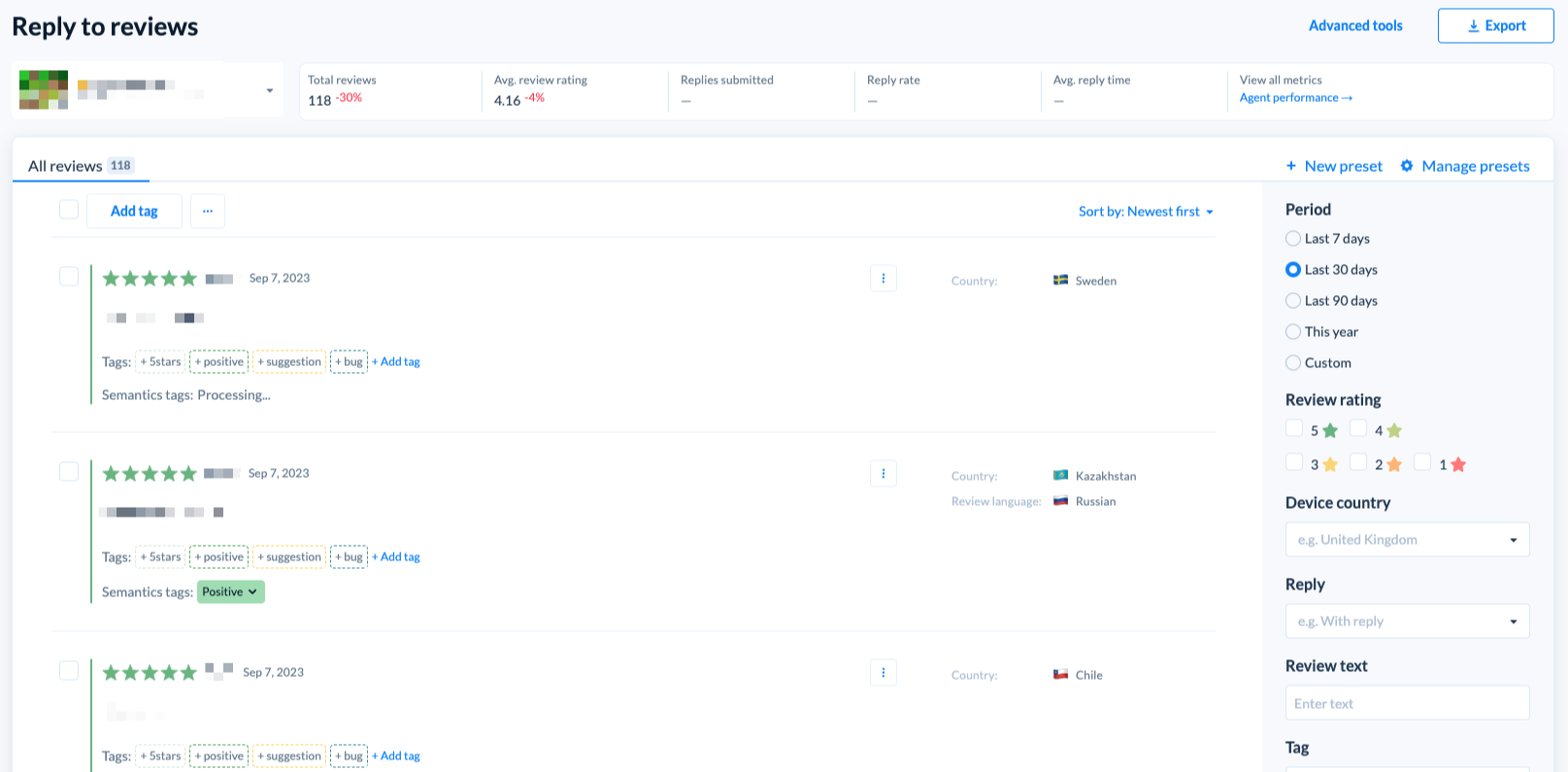 While monitoring reviews, you may also:
Currently, the BETA version is very limited so it is not possible to reply to reviews, only monitor them.
If you have any suggestions about the Samsung Galaxy Store features, please feel free to submit them to our Productboard here.