Overview
The Suggested Template feature offers the best matching reply to a review using a machine-learning algorithm. The model automatically improves based on your decision to use the suggested template for a reply or not.
You'll see a suggestion above the reply box for each review on the Reply to reviews page. It appears every time you activate the reply box in the Review card by clicking on the text field to add a new reply or selecting the "Edit Reply" option
To publish a reply to the store you need to have an active Reply to Reviews integration set for the app. Learn more about setting up integrations in our App Store Connect and Google Play Console integration guides.
Click on the Suggested Template and hit "Publish reply" to send it to the store. You may revise the template and adjust it to match the review before publishing.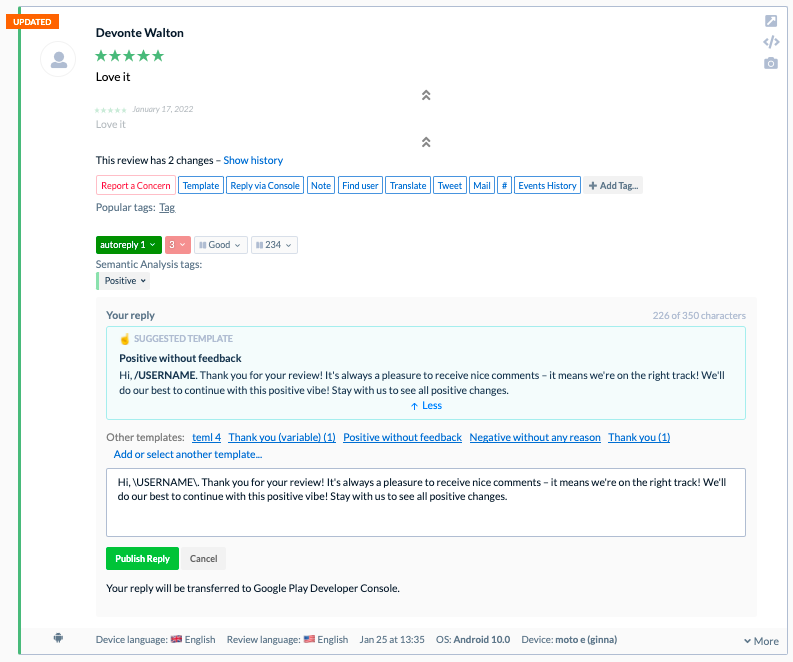 How to Activate Suggested Templates
By default, the Suggested template option is off. Click "OFF" near the feature in the Advanced Tools block to toggle it to "ON" and activate it. You may deactivate suggestions if you don't need them.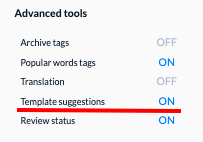 Suggestion Algorithm
Our machine-learning algorithm analyses the review text and the original language of a review. If the review language is indefinable (for example, the review contains only emojis), we will show a template in the default language of your AppFollow workspace.
You need to have existing Reply Templates in the workspace to see the suggestions. If you don't have yet any templates, you can start creating a new template from the Review card right away. The Templates List page shows all the templates added to the workspace.

If you don't see suggested templates for your app, make sure Reply Templates are available for this app and for the workspace you work in.