Issue
When you set up the Google Play: Sales Report Integration, you see the following errors:
GCloud buckets not found
Failed to retrieve valid credentials (invalid_grantBad request)
Solution
1. Check your Developer ID.
The Developer ID is different from the Account ID that is used for the ASO Report integration. Make sure you are using your Developer ID. View the step-by-step guide on where to find the Developer ID here: Google Play: Sales Report Integration
The Developer ID may appear differently in various sections of the console. To check that you're using the correct Developer ID, open Download reports -> Statistics in the left-hand navigation menu, then click "Copy Cloud Storage URI" next to the Installs section. The digits in the URI are your Developer ID.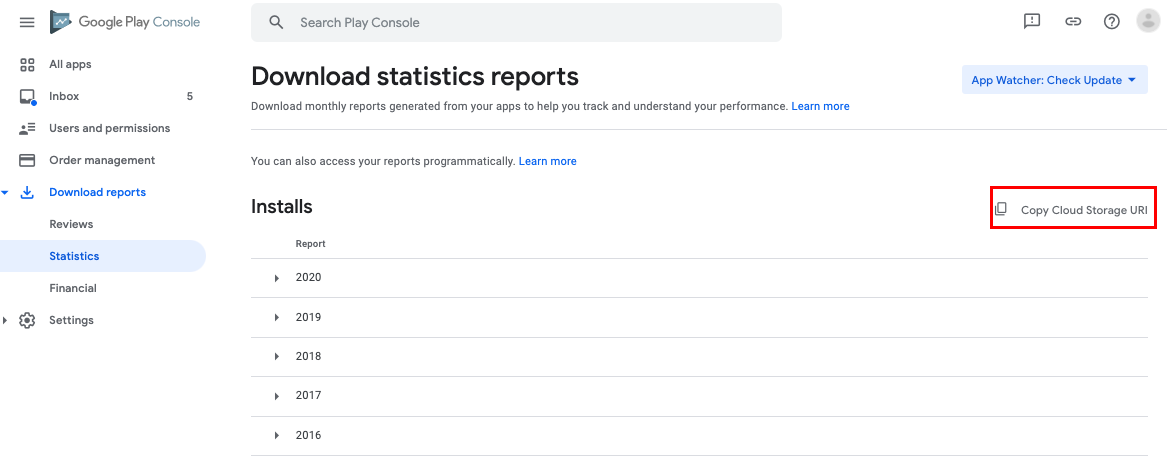 2. Check your account's access levels.
The Google Account that you use to get the code should have the following permissions:
View app information and download bulk reports (read-only)
View financial data, orders, and cancellation survey responses
If the issue remains please email us at help@appfollow.io with the following screenshots:
The Developer ID from the GP console that you use.
The access level of the Google Account that you use when pressing the "Get this code here" button.
Nothing Happens When I Enter the Code
For the Sales Report integration to work, the app should have the Financial reports available in the Google Play Console. Sometimes (especially the recently launched) apps may not yet have the financial reports. Please log in to Google Play Console and make sure the Financial reports section is available for the app.