Overview
Smart Alerts are part of our Pro plan. Contact your account manager or our Support team if you would like to get access to this feature.
Smart Alerts provide you with a flexible, all-in-one tool to set up reports or notifications about changes or certain events from any section of the product.
Use Smart Alerts to:
Get all the necessary information in a convenient way in your channel of choice (email, Slack, Telegram)
Monitor all essential metrics and events in one place
Set your own KPIs to get only the most vital information.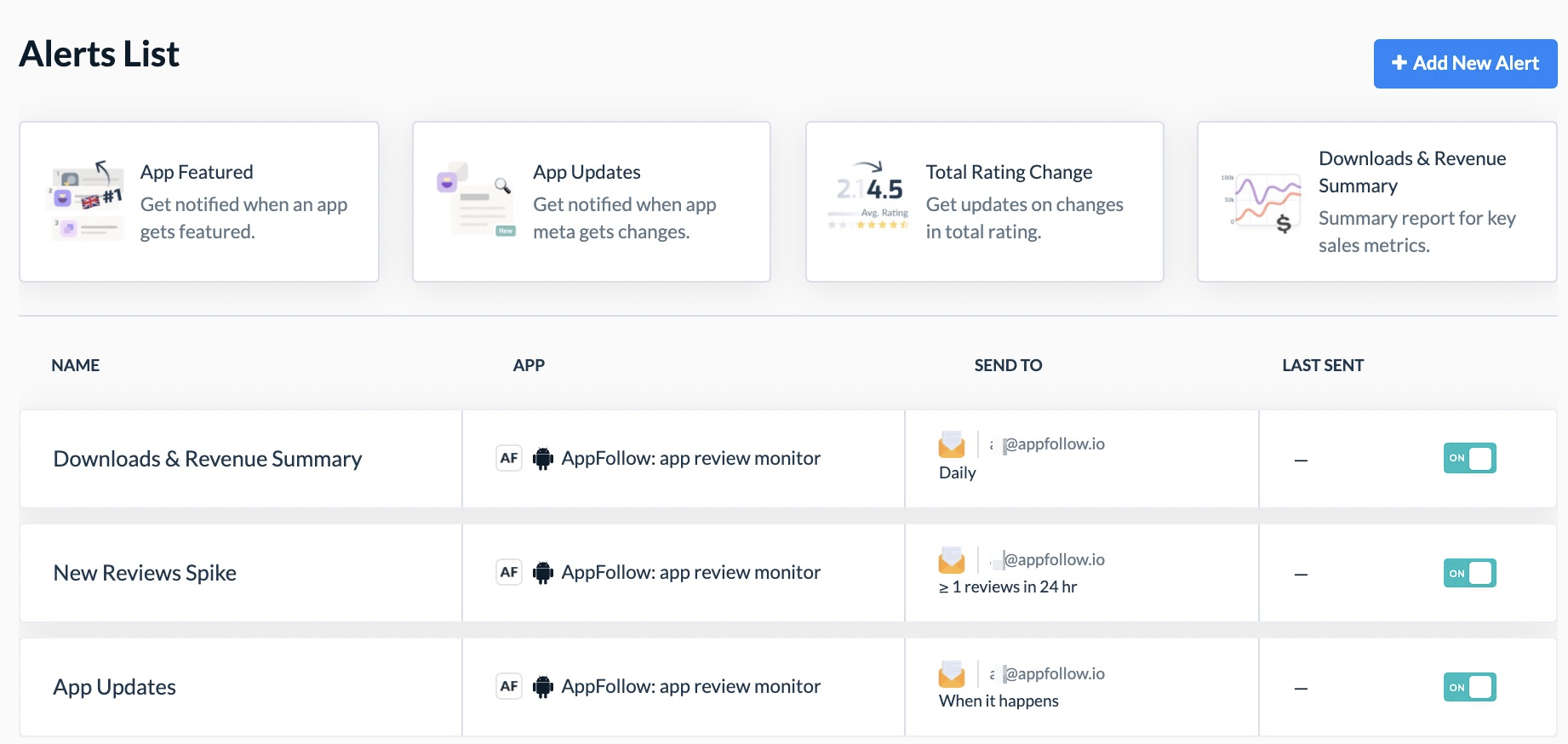 ---
Available Alerts
App Featured
💡App Featured alerts are available only for the App Store. Console integrations are not required.
Get notified when an app is featured. Being included in the app collections or on the App of the Day card is every developer's dream. Don't miss that day! You can set up the alert for specific countries or Workspaces.
App Updates
💡 Available for the App Store and Google Play. Console integrations are not required.
Track the changes made to the app to analyze the events that influenced app performance. Filter by country and update type:
Title
Description and Short Description
Graphics (icon, screenshots, videos)
Price and in-app purchases
Developer name
URL
Version
Total Rating Change
💡 Available for the App Store and Google Play. Console integration is required.
Keep an eye on changes in total ratings. A decrease in ratings can significantly impact your conversion rate, so keeping your fingers on the pulse is crucial.
You can set up filters based on the number of user ratings and a threshold for rating changes.
Downloads & Revenues Summary
💡Available for the App Store and Google Play. Console integration is required.
Use this key sales metrics summary report to track how successfully your apps are performing in the stores. React quickly and adapt your business strategy based on the changes you see.
Quick Tip: Use the country filter to set up different reports based on the locales you want to track.
New Reviews Spike
💡Available for the App Store and Google Play. Console integrations are not required.
Receive notifications when new reviews that meet the criteria you set pass a specified threshold. Available filters:
Language
Rating
Review length
Tags
Quick Tip: Set up an alert to notify you when you receive a high number of negative reviews in a short timeframe. You'll know right away when you need all hands on deck to deal with an influx of negative user reviews.
---
Set Up a Smart Alert
In the left-hand navigation menu, open the Smart Alerts section and select Alert Templates.
☝️You can choose to set up an alert from scratch from the Alerts List page or use a template on the Alert Templates page.

Choose an app and the Alert Topic.

Configure the rules and frequency (if applicable). Each Alert Type has a unique set of rules.
☝️Some alerts (New Review Spikes and Total Rating Change) have a customizable Threshold value – when the number of reviews or ratings reaches this value, we'll send you an alert.
Select the channel where you want to receive the alert.
Email: Enter the email address where you want to receive the notifications.
Slack: Click "Add to Slack" and follow the instructions on the screen to set up a native integration. Check out the FAQ section of this article to learn more. Alternatively, create an Incoming Webhook in Slack and choose the option to enter the webhook URL.
Telegram: Enter the Telegram chat ID. Learn more about finding the chat ID in the FAQ section of this article.

Choose an Alert name and review your settings.
Click "Create alert" to save your changes.

---
Edit a Smart Alert
If you need to make any changes to an Alert, open the Alerts List page and find the Alert you want to edit. The following actions are available:
If you want to edit an Alert, hover your cursor over the Alert and click on the pencil icon to the right of the Alert title. (1)
If you want to delete an alert, hover your cursor over the Alert and click on the bin icon to the right of the Alert title. (2)
If you want to disable an Alert temporarily, toggle the On/Off switch in the far right portion of the row. (3)

---
Frequently Asked Questions
Q: If I already have a Slack integration, do I need to re-configure it to receive Alerts?
Yes, you'll need to create a new Slack channel integration.
Q: Will my existing AppFollow alerts still be supported?
Legacy Slack, Telegram, and email alerts will not be supported after July 1, 2021. All notifications and reports will be available only through the Smart Alerts feature. We recommend setting up Smart Alerts in advance to make sure you continue receiving the required notifications.
Q: Where do I find the Telegram Chat ID?
1. Create a Telegram Group.
2. Add @appfollow_reply_bot as a member:
3. Type /start, and you will get the Chat ID:

The Chat ID may start with the symbol '-', which you should also copy. For example, if you have the Chat id: -123456789 you need to copy all of the symbols.
Q: How do I set up a Slack integration?
During step 3 of the Alert setup process, click "Add to Slack".
You will be redirected to a Slack page where you need to select your Slack workspace.

Enter your email and password from the workspace and click "Sign in".
Choose the Slack channel where you will get the selected notifications.
Click "Authorize".