Overview
The AppFollow API helps you reply to reviews, follow keywords and ranking changes, and track app updates no matter what tools you use. The API has ready-made methods that you can use to quickly access all your data. Wherever you are, you have everything you need to grow your mobile app and get more customers.
Settings
Documentation: https://appfollow.docs.apiary.io/
API Base URL: https://api.appfollow.io
Message format: JSON
Request format: GET/POST
Methods
Here's a list of all of the ready-to-use API methods you may need. You can find this list in our API Documentation.
We've included ready-to-use request examples in the Documentation. To start using them, just copy them to the required location.
Find response examples by opening a Method in the Documentation, and clicking on its title: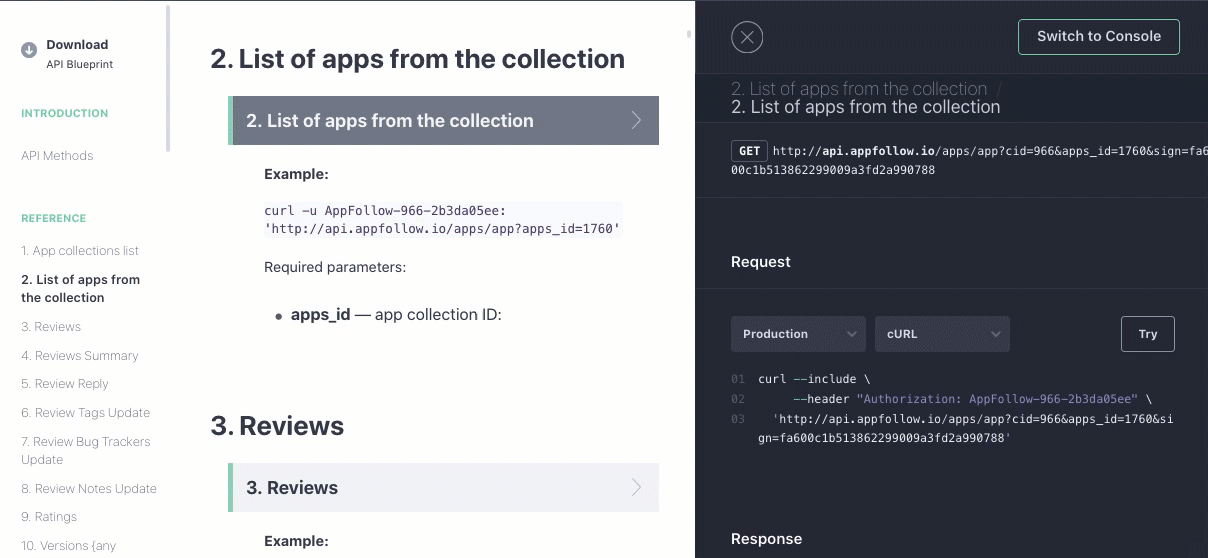 Additional parameters:
Country(iOS)/Language(Android)
---
Handling Errors
In the case of any errors, the server response will be in JSON format, status 200 (except mistakes 502 и 504).
Error example: https://api.appfollow.io/sdsd