Overview
In AppFollow, you'll find various metrics to help you evaluate and optimize your ASO strategy. In this article, you'll learn about Keyword Popularity.
Keyword optimization is a crucial step in ASO. Thorough research, analysis, and careful selection of the best keywords are required to bring relevant traffic to your app. Keyword Popularity is a relative indicator that allows you to quickly and clearly compare keywords and identify the best ones for your app.
Keyword Popularity Score Calculation
For iOS apps, we collect the data directly from App Store Connect and display it without any modifications. The Apple Search Ads score and our Popularity Score are the same values. We identify Popularity by Exact Matches in Apple Search Ads. If you feel like your Popularity Score is too high or too low, you can reach out directly to Apple's support team to learn more.
Sometimes, Apple shows different values for the same keywords. If you're looking at the keyword recommendations for an app (Apple Recommendations), the keyword scores may be higher than the Popularity Score for a specific keyword. We show the same values as in the Apple Search Ads interface. If you have any questions about this logic, please reach out to Apple's support team.
Apple does not provide popularity scores for apps from every country, so for those countries where these numbers are not provided, the data is calculated using the same method that we use for Android apps: we calculate the score based on more than 15 different parameters, including input language recognition and search hints relevance detection. Our comprehensive calculations allow us to provide one of the most precise scores on the market.
If you see that our score differs from the score of any other 3rd party service, you can reach out to the Support Team of that service to determine what may be causing the discrepancy.
Understanding the Popularity Score
A Popularity Score of 0 means that the keyword is used rarely, while a score of 100 is awarded to keywords with a substantial amount of daily requests. We don't recommend using keywords with a Popularity Score of less than 20.
To understand how keywords with different Popularity Scores relate to each other, it is important to know that:
The Popularity Score is a relative metric. There is no data on the particular number of search requests for a keyword with a specific Popularity Score. The App Store and Google Play don't disclose the exact numbers of search requests for a particular keyword, and the number of search requests is not available.
The ratio between scores is not linear because Popularity grows exponentially. On a graph, the Popularity Score could be illustrated as a curve that continually becomes steeper. This means that the total traffic for a keyword with a Popularity Score of 50 and a keyword with a score of 25 is not necessarily 2 times bigger. A Popularity Score of 90 could be several times more than 80, while the difference between the scores of 30 and 20 is much less.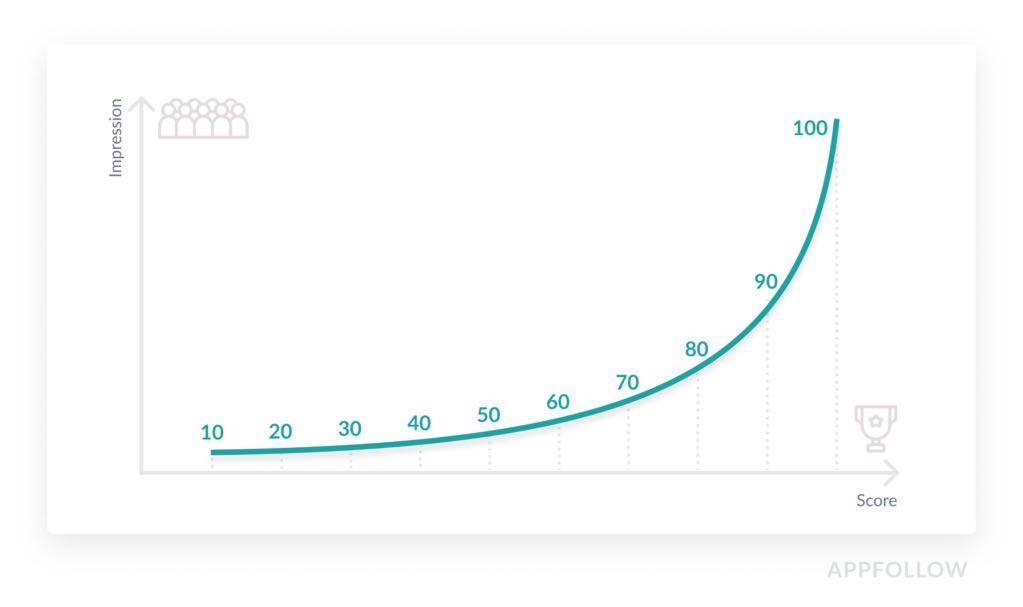 💡The higher the score, the more popular the keyword.
The Popularity Score should be examined along with the number of apps in the Keyword Rankings section of the Keywords Tracking page. The fewer apps that use a keyword with a high Popularity Score, the more chances for this keyword to get a higher rank.

The Popularity Score is a reference point. Using a keyword with a popularity of 100 doesn't guarantee the app will get into the top apps chart. Keywords should be compared to each other as having a higher or lower Popularity Score. To find out the exact impact of a highly popular keyword on traffic changes, you need to study the results of your app's ASO campaigns. Results will vary for different apps, countries, categories, and all sets of factors combined.
When choosing keywords for your app, keep in mind the following rules:
The higher the Popularity Score of the keyword, the better.
Try choosing keywords with higher popularity and lower numbers of matching apps in search.
We recommend considering keywords with a popularity of more than 20.
Popularity History
Popularity History is a premium feature. To get access to it, please, reach out directly to your account manager, or send a message to our Support team.
The Popularity Score is updated for each keyword every week. It is possible to check how the popularity of a keyword has changed over time on the
Keyword Tracking Page
.
Click on the graph icon next to the popularity score in the Keywords Rankings table to check the history for a specific keyword.