When you look at a Google Play app's rating, you may be looking at either public or private data. The data you see in AppFollow depends on whether you have a Google Play Ratings Integration enabled for your app. In this article, you'll learn about these two data sources and find out how to differentiate between them in your AppFollow Workspace.
Total Ratings (Public)
Total (cumulative) Ratings show the data that is publicly available to end-users visiting your app's page in the Google Play Store.

When your app does not have an active Google Play Ratings Integration in AppFollow, we show these public ratings. The public total rating, as well as the total count for each star value, does not necessarily increase on a day-to-day basis. This means that you may see a lower number at a later date when compared to an earlier date.
In the example below, there were 651 5-star ratings at the beginning of February, but at the end of February, the total changed to 632 5-star ratings. It's normal to see a lower count of ratings when looking at public data.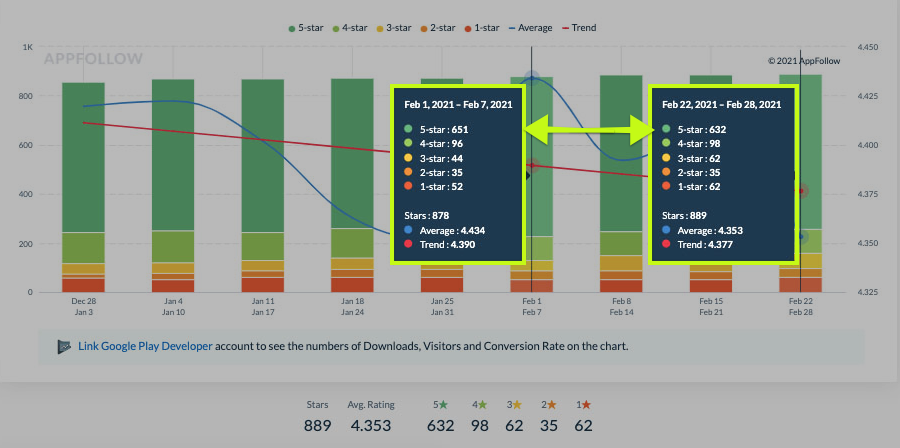 Why Does the Total Rating Change?
Google Play Public Ratings are calculated using an average weighted calculation. The details of this calculation are not disclosed by Google. The changes in the totals can be explained by recalculations that factor in updates to ratings and rating removals. For example, if several users change their 5-star ratings to 4-star ratings, you'll see a lower count of 5-star ratings at a later date.
Since this number continuously changes, we're unable to use it to calculate Incremental values.
Incremental Ratings (Private)
Incremental Ratings are available in the Google Play Console. This day-over-day data comes from a private source that is available only to the developer of an app. When you set up a Google Play Ratings Integration, you can pull this data into AppFollow to see the exact number of ratings you received on a specific day, week, or month.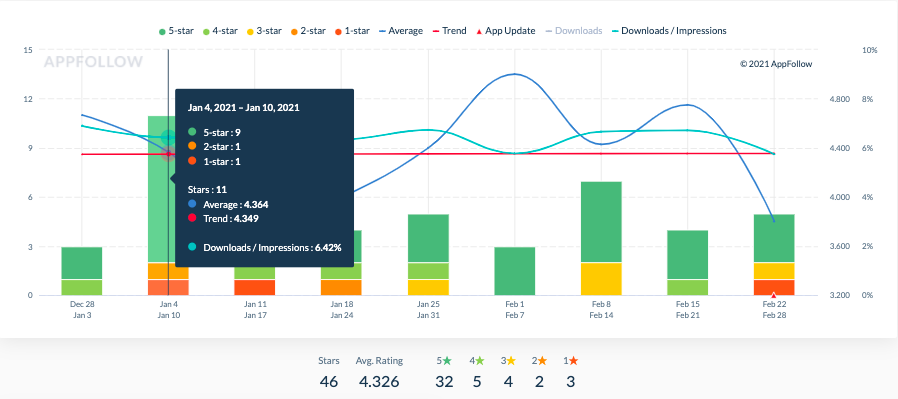 ---
Why Don't I See Past Ratings?
When you set up an integration, we collect all of the available rating stats from the Developer Console. However, the Google Play Console has some limitations as to how far this data goes.
Monthly rating intervals are available for up to 2 years in the past
Weekly rating intervals go back 6 months
Daily intervals are available for the past month
To see data for up to 2 years in the past, set the Rating Chart view to "Monthly".​
There's no way to retrieve more data than is available in the Console, but you'll see everything that is currently available there. The good news is that after you set up an integration in AppFollow, we keep collecting these stats for you so you could go back and see daily and weekly data in AppFollow, even when they become unavailable in the Google Play Console.
---

💡 Need more info? Check out our video on How to Work With Ratings in AppFollow.