Available Bulk Actions
The following actions can be performed in bulk:
Reply to reviews
Add a tag
Report a concern
Submit a reply that is pending approval
Delete a reply that is pending approval
Bulk AI Replies
The Reply to Reviews Bulk Action is activated separately. Please confirm your request in our interface and your account manager will reach to confirm further details.
The other actions will be available on your account if the feature itself is activated already. For example, if the Report a Concern feature is included in your current subscription plan, the Report a Concern Bulk Action will be available as well.
How to Apply Bulk Actions
1. Select an app on the Reply to Reviews page.
Bulk Actions work only when one app is selected on the Reply to Reviews. Bulk Actions are disabled for options "All App Store Apps", "All Google Play Apps", "All Amazon Apps", "All Microsoft Apps" and "All Mac App Store Apps".
2. Check the box next to the reviews you'd like to apply the Bulk Action to.
3. Choose the available action.
4. Confirm the action.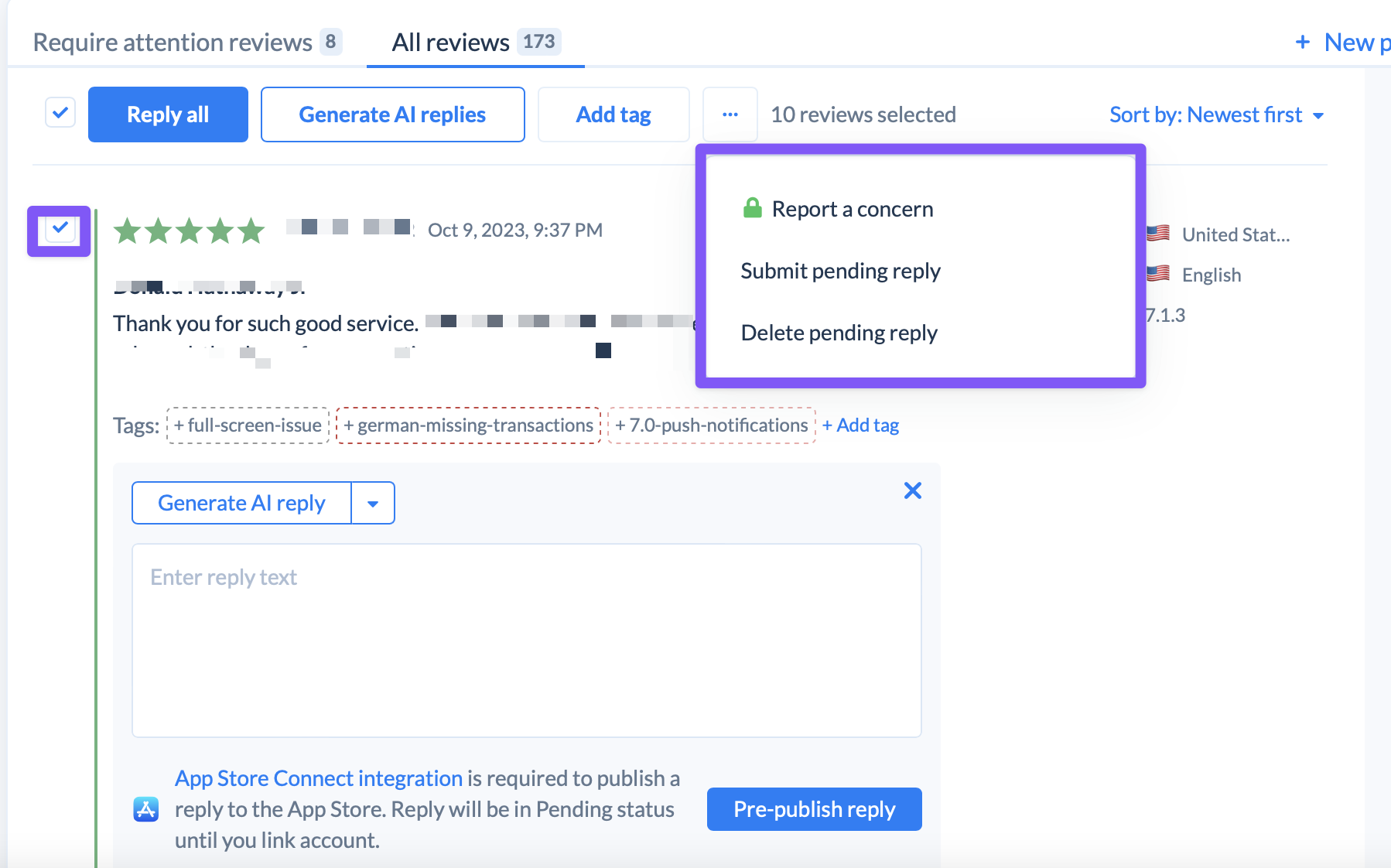 Reply to Reviews Using Bulk Actions
With Bulk Actions, you may respond to a review in 3 different ways:
Reply with a specific message. This way the same reply will be applied to all selected reviews.
Reply with a template to send a specific saved reply to all chosen reviews.
Reply with a Random Template from a Folder allows you to vary your replies and ensure that you don't post the same message multiple times in a row. To use this option, please create multiple Reply Templates in a Template folder.
To give your messages a more human touch, feel free to use Bulk Actions with Random Reply Templates. This will ensure that the exact same replies don't get posted one after the other, and your replies will appear more diverse to anyone browsing your app's reviews.
More details are available in the article Reply Templates.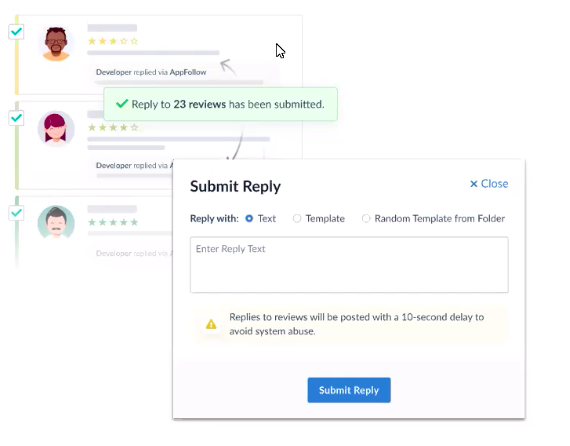 Replies are processed one by one in descending order and sent to app store with a delay of around 10 seconds.
How to apply AI Bulk Replies
Select a specific set of reviews based on rating, language, tags, and more.
Click on "Generate AI Replies".
Select publishing modes "Publish immediately" or "Approval Mode" (Save them as a pending approval reply, allowing you to review, approve, and publish them later at your convenience).
Click on "Submit Replies".
Done!