Overview
The Keyword Intelligence tool offers useful insights on keywords that generate organic downloads for your apps. It will help you to make full use of keywords your users find your app with. As well as get rid of those that yield low numbers of installs — even if they have high traffic scores.
The Keyword Intelligence tool allows you to:
Evaluate the percentage of Search traffic you get by keywords
Measure the real number of installs your app gets by each search request
Measure the power of the Brand in the app's download share
Get market insights on how your Brand campaigns are performing
Implement the data-driven decisions and strengthen your ASO strategy.
ASO Report integration is required to use this page. Here's how to set it up for the App Store and Google Play.
Navigation
On the top of the page, you will see filters by app, country, and date. Make sure you configure them before analyzing the numbers below:

Once the filters are set, you can start evaluating your app performance.
App Organic State

This section provides 5 categories:
Total Ranked Keywords shows the number of keywords that your app ranks for on the store;
Branded downloads is the number of downloads generated by branded keywords (those words that contain your app brand name)
Non-branded downloads, on the contrary, are the number of installs that were made through typing keywords that don't contain your app brand name.
Total Search downloads are the total number of downloads that were made through the Search traffic channel
Search Conversion Rate shows the percent of downloads after finding your app through the store search page.
Make sure you have linked your App Store Connect and Google Play Console with an ASO integration. This will allow tracking useful data like Total Search Downloads, Search Conversion Rate, and Downloads from Search Traffic Channel.
Keyword Download Share and Branded vs non-branded Keywords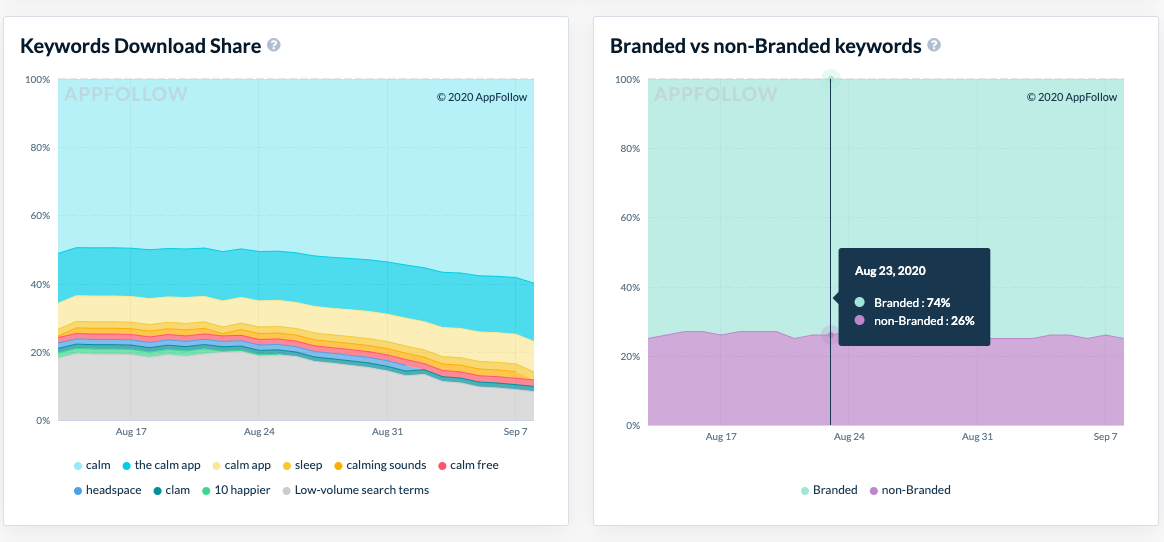 The Keyword Download Share provides visual distribution of downloads share by the most valuable keywords (by the most valuable keywords we mean those words that bring the biggest number of downloads)
Branded vs non-Branded Keywords chart will help you to see the difference between the traffic generated by keywords contain your brand name and the non-branded keywords. If you see more of the purple color here - congratulations! Your brand name is working well.
Most Valuable Keywords
This table will show all the keywords that generate downloads for the selected app with the download share for every keyword and the actual numbers of downloads if you add an App Store or Google Play integration. You are able to see what keywords are branded and what download share changes happened during a set period: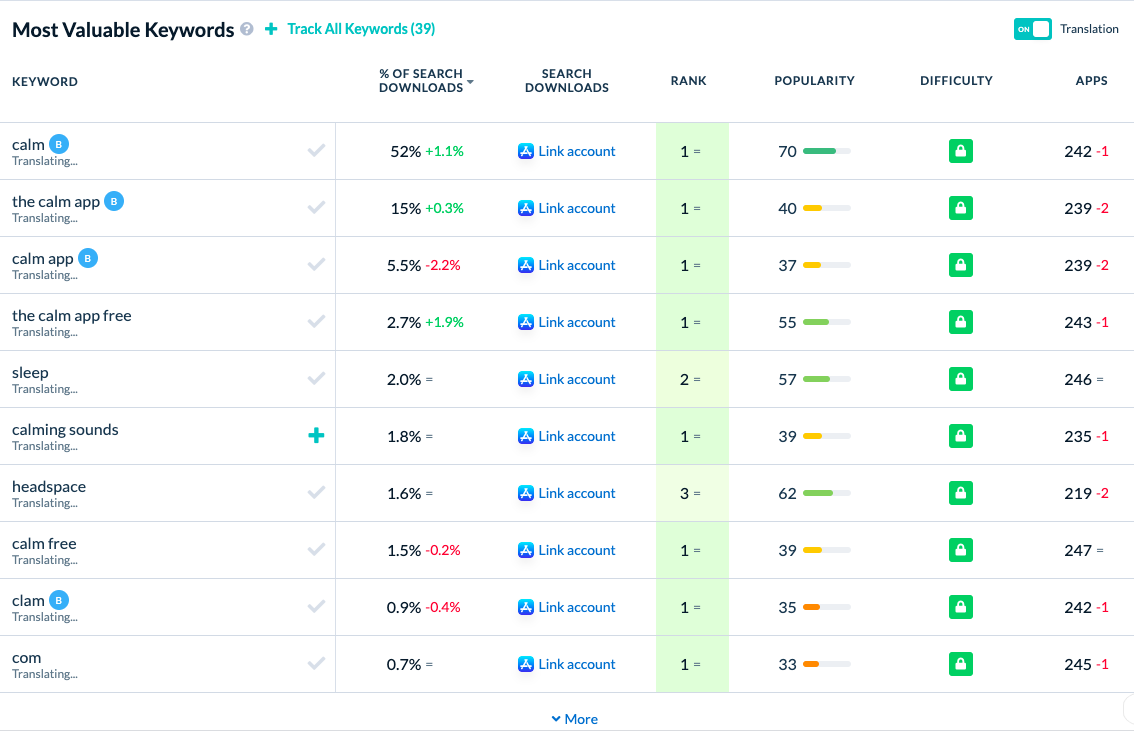 The letter "B" next to some keywords stands for Branded. It's attached to keywords that contain the app brand name.
% of search downloads shows the share of downloads that came from Search traffic channel by each keyword;
Search downloads are the exact number of downloads per keyword (becomes available only after you set up an integration with App Store or Google Play);
Rank is the app's position for a keyword;
Popularity provides you traffic scores from Google Play and Apple Store. We use our internal mechanism to show you the real data, so if you see 0 or 5 for some keywords — you can be sure that there are very few people typing this keyword every day. The maximum score is 100;
Difficulty shows how hard it would be to outrank your competitors on App Store or Google Play Top-10 with the specified search terms and phrases. The higher the difficulty, the less suitable it is for your text optimization. The maximum difficulty score is 100;
Apps give the total number of apps that rank for a keyword.
If you see that we have skipped some of your branded keywords, you are welcome to let us know! Just hover over a keyword from Most Valuable Keywords and click B? :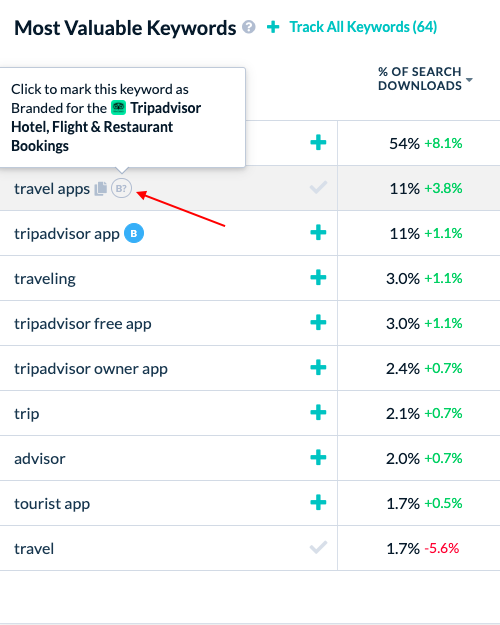 We will process your request within 24 hours and confirm it in case we have really missed one of your branded keywords.
On the Keyword Intelligence page, we do not support downloads generated by iPad apps.