Overview
The main app page is designed to provide you with all information about this app: descriptions, charts, images and technical information. To navigate you through this data jungle, let's have a closer look at each part of the page.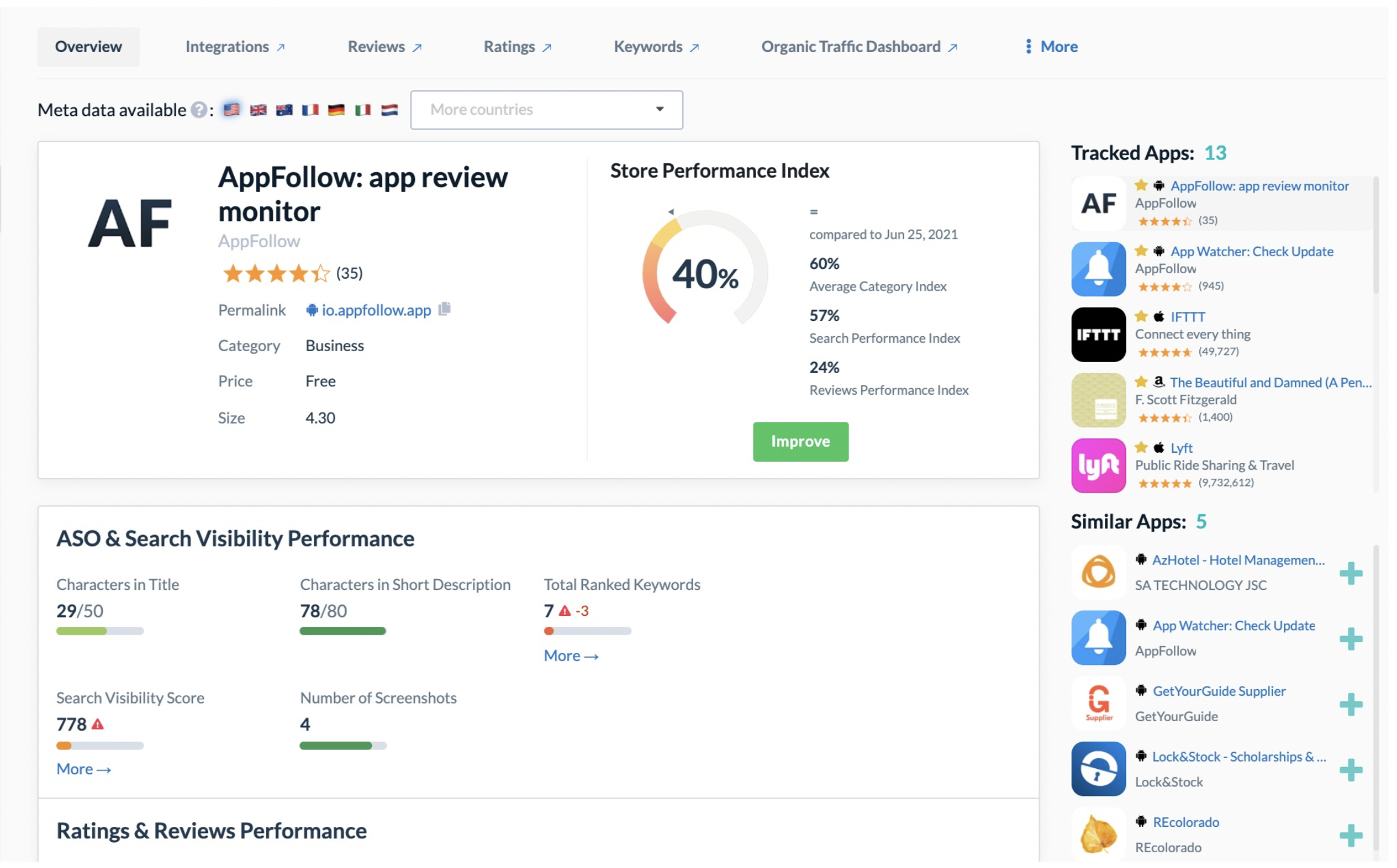 On top of the app page you can find basic information, such as name, developer, ranking, app id, vertical, etc. Sometimes you can also see a green badge that highlights something special about this app, for instance, "Editors' Choice" or "Apple Watch App".
Features
Scrolling a bit down, you can find a line of clickable buttons:

Most of them are our main features. Click to add new Integrations, check the Ranking, keep an eye on new versions in Timeline or read the Reviews.
Metadata
You can also notice little flags referring to country or language of the represented Meta data (app name, description, screenshots, video). You can switch between them to see how meta-data changes depending on location. It's possible to add more languages and countries to track them all right from the app page.
Screenshots and Video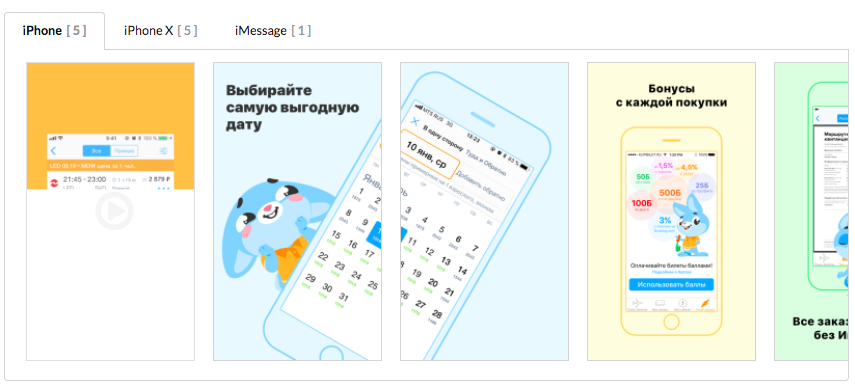 Screenshots change depending on the selected device. On the example above you can see the range of available devices for iOS app (iPhone, iPhone X & iPad or iMessage). There will be only current Android app version for Google Play and PC and Mobile version for Windows Store apps.
If you click on one of the screenshot, you'll open full screen picture gallery with links for download.
*Video is not always available.
More Details
Since text boxes play an important role for app ranking and overall user experience, you also find descriptions and updates with character count. If the count is highlighted in red, it means your content is not perfectly optimized for the store. Our ASO Team can help you fix it and improve rankings.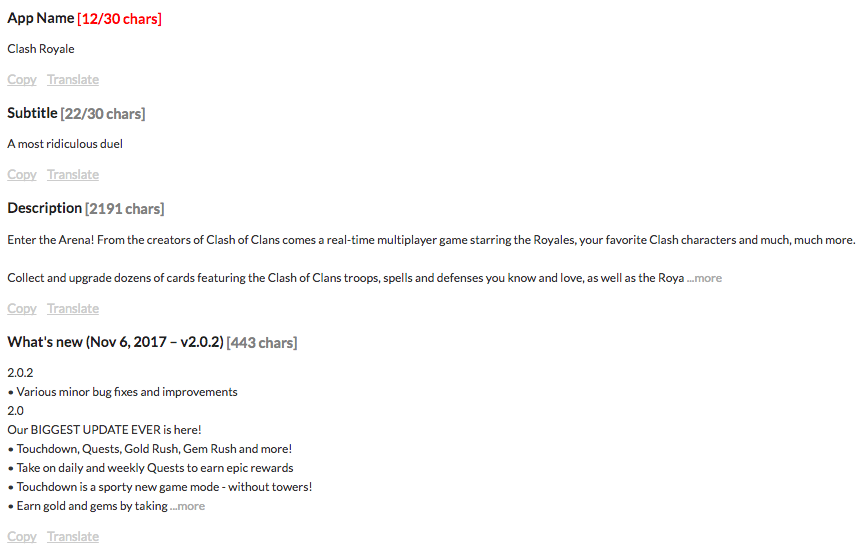 Depending on whether an app has ever been featured, become Editors' Choice or not, we will show editor's notes and promo banner from the store. There is also some additional information, e.g. available languages and compatibility.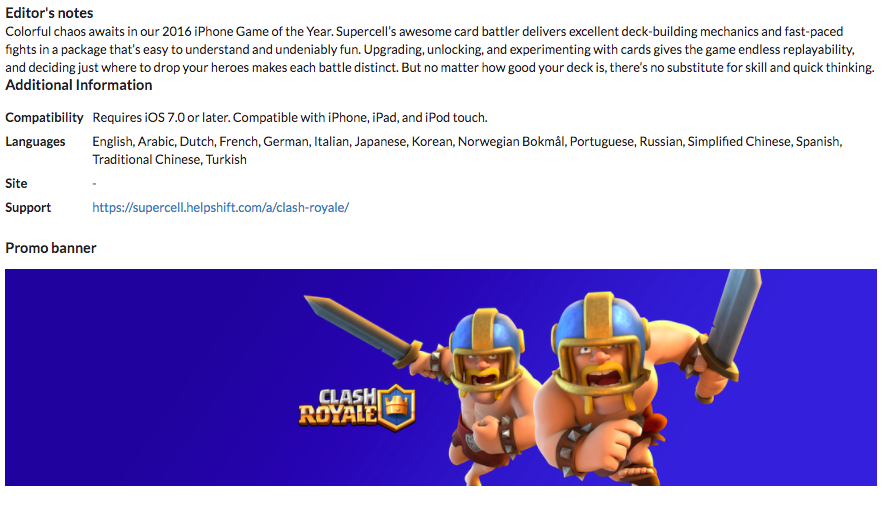 In case you look at the right side, you will see other apps from the same Workspace and similar apps from the competitors: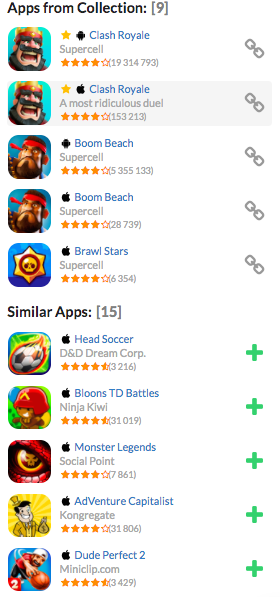 At the bottom right side there is a bit more useful information, such as available in-app purchases or clickable versions (last 25 versions for App Store and current versions for Google Play and Windows Store).